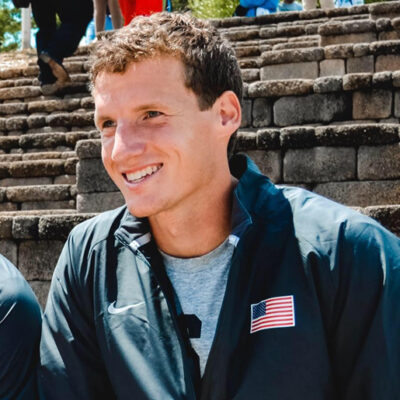 Stanton Collins
| | |
| --- | --- |
| Hometown | Gainesville, Georgia |
| Events | Sprint Kayak |
| Years On Team | 11 (since 2011) |
| Club | Lanier Canoe and Kayak Club |
| Born | 06/23/1994 |
| Schools/Work | School: Georgia Institute of Technology Consultant -- Data Analytics , Work: ACA Athlete Safety and Compliance Manager |
| Hobbies | Climbing |
"The best time to plant a tree is 20 years ago. The second best time is now."
2 Things You Didn't Know about Stanton Collins
Stanton was a one time baby model.
He is also a want-to-be amateur chef.
World Championships

Junior: 2011


U23: 2013, 14, 15, 16, 17


World Champs: 2015, 18, 19

World Cups

2014, 2015 (WC1&2), 2016 (4th in K2 500m), 2019 (WC1&2), 2021 (B Final K1 200m)

Other

2014 Pan-Am Championships Gold K2 500m


2016 Pan Am Games K4 1000m Bronze

USA Team Trials

Olympic Trials


2016: 1st in K2 1000m and 200m


2021: 1st in K1 200m

USA National Championships

4x K2 1000m Gold


4X K2 200M Gold


3X K1 200m Gold


3X K4 500m Gold


2X K4 1000m Gold
More About Stanton Collins
Stanton grew up in Gainesville, GA where he was introduced to Sprint Kayak through the still standing 1996 Olympic Venue. He began completing at 13 when he attended his first National Championships. At 14 he began competing internationally and competed as part of Team USAs under-16 and under-18 team at 15. in 2013 Stanton made his first Senior National Team.
From 2014 to 2016 Stanton Trained full time for the Rio Olympics. Though he won 2 Olympic Events at 2016 Olympic Team Trials, there was no Olympic quota available for him to receive. After training for the 2016 Olympics, he went to Georgia Institute of Technology where he graduated with high honors with a B.S. in Economics. While finishing school he continued to train at Lanier Canoe and Kayak Club and competing for team USA.
Stanton now is the owner of "S Collins Consulting LLC." where he helps organizations improve their data analytics and visualization systems. He also works as the Athlete Safety and Compliance Manager at the ACA.