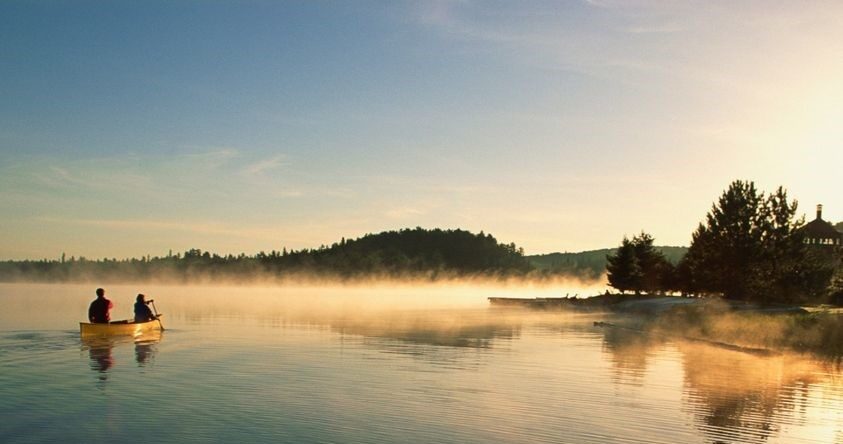 The American Canoe Association was formed in 1880 on the banks of Lake George, New York, by a group of paddling adventurers and explorers. Only 15 years after the Civil War, this small group of people had the foresight to create an association that would grow and adapt in support of paddling. Now, 142 years later, the ACA has members spread across the globe, supporting paddling programs benefiting all paddlers, from entry level to elite. The world has gone through changes and challenges since ACA's birth, but the core missions identified by our founders and early members –  education, competition, recreation, and stewardship – remain strong.
These core missions are intertwined and interdependent. Stewardship helps ensure we have clean water to paddle on, access to the water, and public policy that allows paddling. Education teaches how to paddle as well as how to be safe paddling, be it for fun, exercise, competition, fishing, or any other reason. Competition happens when one paddler points ahead and says to another "I can get there faster than you." And, although there are a host of reasons to paddle, many people paddle for the sheer joy of being on the water. Our founders recognized the interdependent nature of these missions. What was true in 1880 is still true today – failure to support any of our missions negatively impacts all of our missions.
To better support all our missions, the ACA has two major initiatives underway. First, we are presenting changes to our bylaws for your consideration and approval. Bylaws provide the structure under which we operate. A number of bylaw changes have been proposed and unanimously supported by ACA's Board. The proposed changes focus on increasing member engagement and strengthening support for our missions. Major changes include:
Creation of a new National Activity Council, similar to the Safety, Education and Instruction Council and the Competition Council, intended to provide stronger input from ACA's grassroots member groups including clubs and State Directors. This group will give a stronger voice to our missions of recreation and stewardship, while also improving communication and engagement with membership.
Addition of a new Purpose for the ACA – Diversity, Equity and Inclusion in paddlesports. This change will clearly identify ACA's commitment to welcoming all people who want to be part of our paddling family.
Transferring power from ACA's Board to our three proposed National Activity Councils to choose members of the Nominating Committee, which is tasked with selecting and vetting candidates for ACA Board positions and other national leadership roles.
Bringing ACA's bylaws into compliance with current legal requirements to serve as the National Governing Body for Olympic and Paralympic paddlesports and as the governing body for International Canoe Federation paddling disciplines. Competition has been a core part of the ACA since our founding. ACA's Board believes we are stronger as a unified body, welcoming and inclusive of all paddlers, and committed to all of our missions. In order to support our members who might ever pursue Olympic dreams, and to support all our members who might ever participate in International Canoe Federation competition, we believe we must bring our bylaws in line with current legal requirements.
Second, we are developing a forward-looking Strategic Plan. Where bylaws provide a structure for how the ACA operates, the Strategic Plan will describe what we do. A work group made of Board members along with leaders from SEIC, Competition, DEI, Properties, Divisions and State Directors has created draft strategic goals. Those goals now are being circulated to ACA's membership for feedback and refinement. Once we receive feedback, the work group will be expanded, major goals edited, key performance indicators added, and additional member feedback sought. The new Strategic Plan will guide what ACA does for the next 5 years and set us on a path for another 142 years of success.
A summary of the proposed bylaw changes and a final version can be found on the ACA website. A summary of changes and other information is also available on the website. Voting on bylaws will begin at our membership meeting on October 30th.
A brief survey asking for feedback on the proposed major goals of ACA's Strategic Plan can be found here. The survey is open now.
Information sessions on both the bylaw changes and the strategic planning process will be held on Sunday, October 23rd at 4:00 PM Eastern, and Sunday, October 30th during the membership meeting. Additional sessions will be scheduled if needed. Questions can be submitted via email to feedback@americancanoe.org.
Thank you for being a member of the American Canoe Association and for supporting paddlesports. We hope to see you on the water!
Robin Pope
Chair, Board of Directors
Jerry Dunne
Vice Chair, Board of Directors
Beth Spilman
Executive Director