Community
About Us
The American Canoe Association was founded in 1880 and is a national 501(c)(3) nonprofit organization that serves the broader paddling public by providing educational programs, supporting stewardship initiatives that affect paddlers, and offering competition opportunities to athletes of all abilities.
The ACA has over 15,000 members and 300 paddling clubs and affiliated organizations. The ACA provides insurance to hundreds of events and races every year. The ACA education program has an estimated reach of over 800,000 people per year. ACA members reside in all 50 states and over 35 countries worldwide.
Since 2017 the ACA has served as the National Governing Body for paddlesports (Sprint, Slalom and Paracanoe) for the United States Olympic & Paralympic Committee and as the U.S. National Federation to the International Canoe Federation.
The heart of the ACA is the people who paddle, cherish and protect the rivers, lakes, streams, bays and oceans of the United States and beyond.
Vision
To connect diverse communities by fostering a shared commitment to safety and stewardship, and by providing opportunities for challenge, achievement, and fun through paddlesports.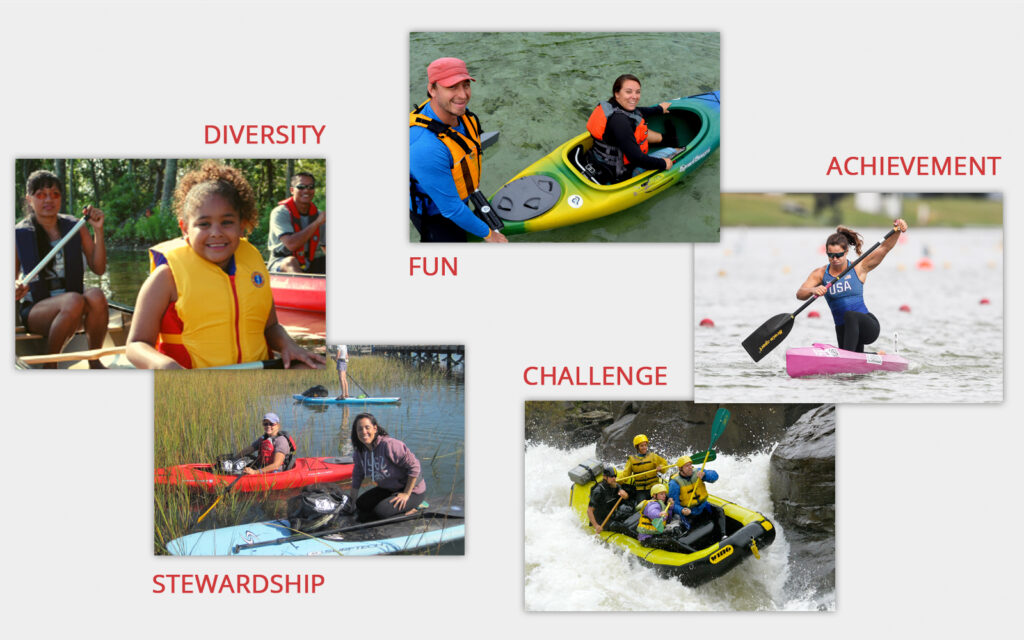 Our Mission
ACA provides paddlesports leadership, structure, and instructional resources to promote our sport's many health and social benefits to fuel membership growth and enrich the experience of all participants.
Leadership Structure and Instructional Resources
Health and Social Benefits
Enriched Membership Experience
Core Values
We believe every paddlesport participant has a right to define their path on the water, from fun recreational activities to elite athletic pursuits, and we share these  core values:
Enjoyment: We develop programs, instruction, training camps, events, and competitions that provide a fun, satisfying, and rewarding experience for all. We paddle because it is fun.
Safety: We create tools, programs, policies, and procedures to ensure that safety is a top priority for all our members and other paddlesport participants. Paddling is fun when we're safe and healthy.
Inclusion: We promote a culture and atmosphere of honesty, camaraderie, and sportsmanship to enrich lives and unleash the full potential of all participants. We maintain an environment of respect, fairness, and kindness and embrace the value of diverse backgrounds, experiences, and perspectives. Everyone is welcome in the paddling family.
Teamwork: We work collaboratively with our volunteers and partner organizations.  We nurture connections throughout the paddlesport community and with the US Coast Guard, the US Olympic & Paralympic Committee, the International Canoe Federation, the Outdoor Alliance, and other partners.  We cannot achieve our mission alone. 
Excellence: We are committed to the pursuit of excellence at the individual, team, and organizational levels. We strive to provide the best possible service to our members and the paddling community. We are accountable for how effectively we achieve that goal.
Governance
A member-elected Board of Directors governs the American Canoe Association. The 15 directors have a wide range of skills and expertise, including legal, financial, environmental and boating safety, and live throughout the United States. Directors are elected for a 2-year term. Elections take place in the early fall, electronically and as part of the Annual Membership Meeting.
In addition to the Board of Directors, the Safety Education & Instruction Council, the Competition Council, and other standing and ad hoc committees and working groups serve in advisory role to the Board and can make policy recommendations for the Board to consider.
The Competition members of the ACA  elect a Representative and Alternate Representative to the United States Olympic & Paralympic Committee's Athlete Advisory Council. The representatives serve a 4-year term.
ACA members have general powers and authority to vote on and conduct certain affairs of the association as described in the Bylaws including changes to the Bylaws. All ACA members are encouraged to participate in the Annual Membership Meeting each fall.
President – Robin Pope (North Carolina)
Vice President – Jerry Dunne (New York)

Treasurer – Suzanne Britt (Washington)
Secretary – C.C. Williams (South Carolina)
Athlete Representative – Scott Mann (Maryland)

*Terms expire at the annual meeting of the year listed

At-Large Directors

Risa Shimoda (Maryland – 2023)
Brandon Slate (Colorado – 2022)
Robin Pope (North Carolina – 2022)
Sarah Leith Bahn (Oregon – 2022)
David Lumian (California – 2023)

Independent Directors

Suzanne Britt (Washington – 2023)
Pam Dillon (Pennsylvania – 2023)
Rainey Hoffman (Washington – 2022)

Property Management Committee

Jerry Dunne (New York – 2023)

Competition Council

Safety Education & Instruction Council

Anna Levesque (North Carolina – 2022)

Elite Athlete Directors

Slalom – Scott Mann (Virginia – 2022)
Sprint – Thom Crockett (North Carolina – 2022)
Paracanoe – Jack Wallace (New Jersey 2023)

Affiliated Organizations

C.C. Williams (South Carolina – 2022)

Immediate Past President

Liaison Members (non-voting)

Ex-Officio (non-voting)

Beth Spilman- ACA Executive Director (Virginia)

2022 Meeting Minutes

2021 Meeting Minutes

2020 Meeting Minutes

2019 Meeting Minutes

2018 Meeting Minutes

2017 Meeting Minutes

2016 Meeting Minutes
National Awards
Each year, the ACA presents a series of prestigious national awards to individuals and organizations who have illustrated exemplary leadership, service, and dedication to various aspects of paddlesports.