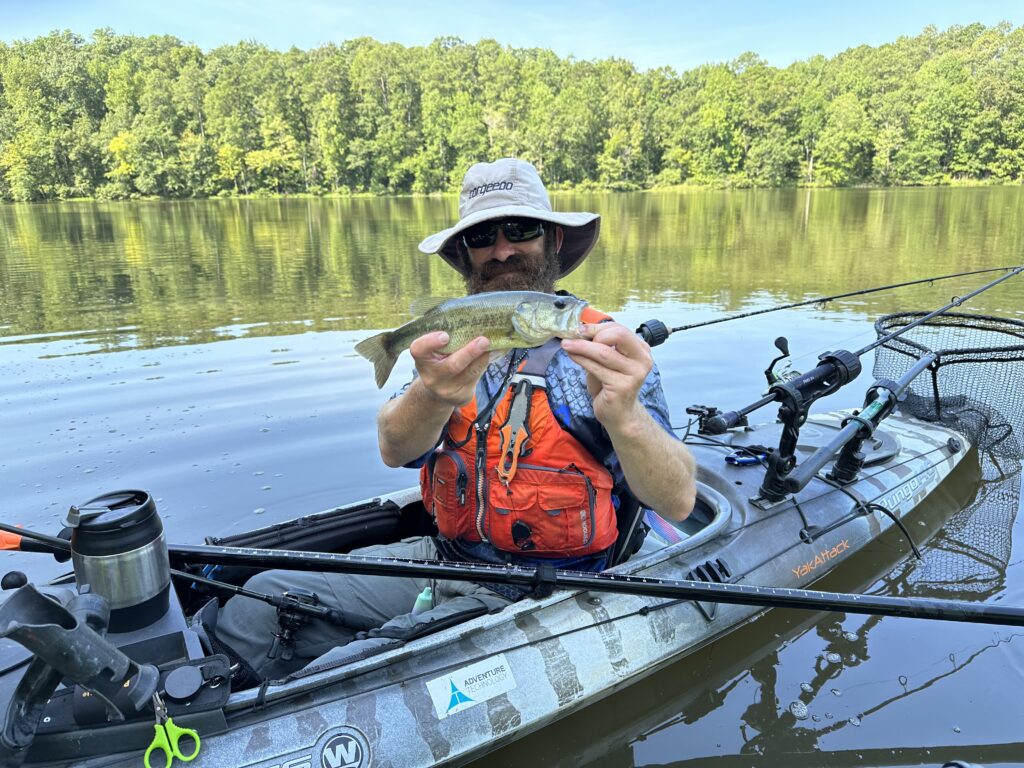 Photo Credit: Chuck Earls
The ACA Fishing Advisory Board is happy to report that the new ACA Paddlesports Angler instructor endorsement is gaining momentum within the ranks of ACA Instructor Trainers/Instructor Trainer Educators, among our grassroots instructor candidates, and among leading Kayak Anglers who are getting certified as ACA instructors so they can bring this training to the kayak angling community. 
Recent News 
As of August, 2023, the ACA has 6 ITs/ITEs and 14 instructors who have earned the Paddlesports Angler instructor endorsement. These instructors include several Paddlesports Officers working for the Tennessee Wildlife Resources Agency, a variety of instructor candidates recruited by Paddle America Club leaders, and some key leaders from the Kayak Fishing sector who want to bring this curriculum to their constituencies.  
Fletch Griffin, owner of the Atlanta-based Westbrook Supply Co. is one of the newly certified ACA Kayak Instructors helping spread the new ACA fishing curriculum to kayak anglers, "The nature of kayak fishing is somewhat dangerous and people don't always know how to evaluate their risks. It's a super important program and I'm so glad I can get involved," he said. 
"There really is nothing like this curriculum and this instructor training out there for Kayak Anglers. There are so many new people entering this sport. It's important to bring together the basic skills and safety techniques that are unique for kayak fishing so we can effectively share them with new kayak anglers," Griffin said.  
Jameson Redding, host of the Road Trip Angler television/internet show and former Brand Manager for fishing at Jackson Kayak, has been a kayak angler for more than 13 years and has now earned certification as an ACA River Kayaking Instructor with the fishing endorsement.  
"I wanted to get certified as an ACA instructor because I have always felt that Kayak Fishing has been missing some of the safety side of things. Learning about the kayak side of kayak angling has always been really important to me. Kayak is in the name…we are Kayak Anglers," Redding points out. "And I wanted to learn how to teach people properly so they can have a better, safer experience on the water. I really enjoyed the ACA instructor class. The program polished up my skills, taught me some new skills and gave me an ability to structure a course to share those skills with others." 
Chuck Earls of Lake Erie Kayak Fishing in Ohio took this opportunity to get certified as an ACA Kayak Instructor with the Angler endorsement, as well. "I came down to Georgia for the ACA Paddlesports Angler training offered by Georgia River Network," Earls explained. "ACA has been the leader in paddlesports education for more than 100 years so it is only right for them to have an angler-specific curriculum. Since I am the safety expert in my area I thought it was very important to get certified as an ACA Kayak Fishing instructor so I can help out." 
How to Get Endorsed 
As part of the rollout plan for the Paddlesports Angler Instructor Endorsement, the SEIC approved an online only endorsement available to ACA ITs/ITEs who attest to previous fishing knowledge and expertise. This is intended to help leverage our in house expertise to expand the program more rapidly in more parts of the country. Through a combination of online and in person endorsements, we now have 6 Instructor Trainers who can offer this credential to ACA instructors.  
Any ACA certified Kayak or SUP instructor, IT or ITE who would like to earn the Paddlesports Angler endorsement should reach out to Andrea White, Secretary for the ACA Fishing Advisory Board, so we can help find you an opportunity to do so!