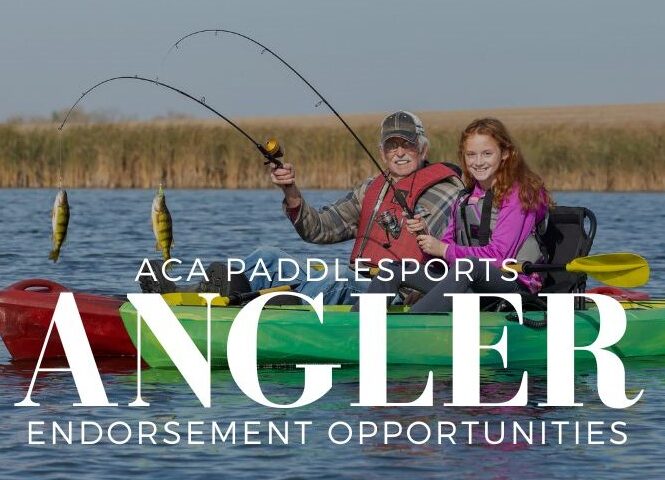 ACA Paddlesports Angler Endorsement Available Thru Online Only Option for ITs/ITEs with Prior Fishing Experience –  Offered Free Until May 31st
Last year the ACA launched a new Paddlesports Angler instructor endorsement and skills-based curriculum with a focus on safety as well as paddling and fishing skills. The endorsement to teach this curriculum is available for currently certified instructors in the IPC, River Kayaking, Coastal Kayaking and SUP disciplines.
The Paddlesports Angler Instructor Endorsement Criteria and program roll out plan can be found here.
There are a variety of in-person ways that an ACA instructor, IT or ITE can earn the Paddlesports Angler Instructor Endorsement as well as a new method that has been authorized by SEIC for ITs and ITEs who have prior fishing expertise. This online only process to earn the endorsement is being offered by the Paddlesports Angler Advisory Board for free until May 31st.
In accordance with the rollout plan laid out by the SEIC Standards Committee, Instructor Trainers or Instructor Trainer Educators may earn the Angler Endorsement via the completion of personalized virtual coursework (to include self-study of current fishing curriculum, submission of 3 teaching videos, online knowledge check/quiz passed with 80% or higher, and interview with at least 3 members of the advisory board).
The goal is to launch this curriculum to the public in as efficient and effective way as possible without compromising our educational standards. To that end, we are highly encouraging current ITs and ITEs with the fishing knowledge and passion to seek the endorsement using this online only option. The Paddlesports Angler Advisory Board are offering the virtual option to ITs and ITEs for free till May 31st. If you are an IT/ITE who is interested in pursuing this online only endorsement opportunity please reach out to Andrea White who is serving as Secretary for the ACA Paddlesports Angler Advisory Board: RACChair@americancanoe.net.
If you are an ACA instructor who would like to earn this endorsement through an in person class, please reach out to either Jeff Atkins or Jake Vitak, or you can reach out to the ACA Paddlesports Angler Advisory Board through Andrea White: RACChair@americancanoe.net.