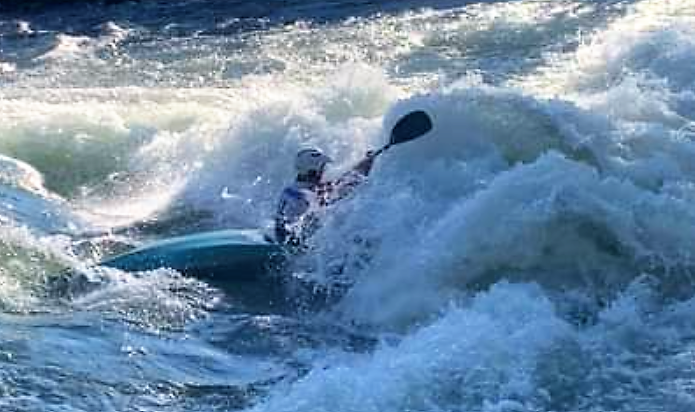 Image Credit: USA Wildwater / Athlete: Finn Blackburn, 2023 U.S. Junior Wildwater National Champion
Salida, CO (August 11-12) – The racecourse on the Arkansas River in Salida was an absolute delight. The Sprint course went through the two drops in town and concluded just below the F Street Bridge. We also utilized this section for our Classic distance race, and included the new, ever evolving "Scout" wave recently built by Recreation, Engineering & Planning (REP). The cool thing about these 3 features is that while they are exciting, they are one off river features that are very safe and have large recovery pools below them. The Classic course finished up with 4 minutes of continuous class 2+ whitewater through Bear Creek Rapid. It was a great course for our Nationals and training for the 2024 Worlds in Spain. This was all in backdrop of Salida CO, one of America's top outdoor towns, and the Arkansas River, which has some of the best whitewater on the planet.    
Wildwater has always been a tight knit group of athletes that help each other out, and this year's National Championships was no exception. A good place to start this year's story begins in late May, when I put an APB on our USA Wildwater Facebook Page that if you are coming to Nationals, please consider bringing any extra wildwater boats to FIBArk and I will buy them and put them into circulation in Salida. Bert Hinkley answered the call by bringing his old Superstar K-1 and selling it to me at a fair price. As a result, Bert's old Superstar is now a national champion, and thus we began to building a whitewater racing program in Salida!  
Local Salida Junior, Finn Blackburn, who is the best young paddler, surfer, and all-around athlete that I know, answered the call by rounding up a few high schoolers to begin training sessions on the lake. We started off with the Superstar, a wave hopper,  another wildwater kayak, and me in canoe demonstrating with a kayak paddle. Then we graduated to doing the wavehopper on the river, and then river sessions in the Superstar. Through it all, Finn had an amazingly quick learning curve, and went on to race at Nationals and become the 2023 Jr National Champion. 
Garet Strouse, who is now a 4-time national champion, donated a week of his time with on-water instruction during our training runs. Garet really helped bring Finn up to the next level on everything from technique to race day strategy. I'm proud to call Garet a friend, a coach, our top kayaker, and our overall champion in 2023. Watch Garet doing Sprint Course training.
Also, my many thanks to Olivia Spencer for her many contributions to Wildwater. In addition to being our Race Chairman, Olivia is our 2023 Women's National Champion as her training over the past 3 months really showed.  
Last but not least, Salida legend, Mike Harvey, is our 2023 Masters National Champion.
I'm delighted to have gotten the opportunity to help support our 2023 Nationals and athletes. If you'd like to get started in Wildwater, or start training with us, or support the sport in any way, please visit the USA Wildwater Facebook Page and reach out to any of us.  
About the author: John Pinyerd has trained and/or competed in Slalom, Sprint, Marathon, Outrigger, Surfski, Dragon Boat, and of course in his favorite sports of Whitewater Downriver Open Canoe and Wildwater. John is a 15-time National Champion in Wildwater, a 4-time medalist in international competition, and is a 2-time Master's World Champion.