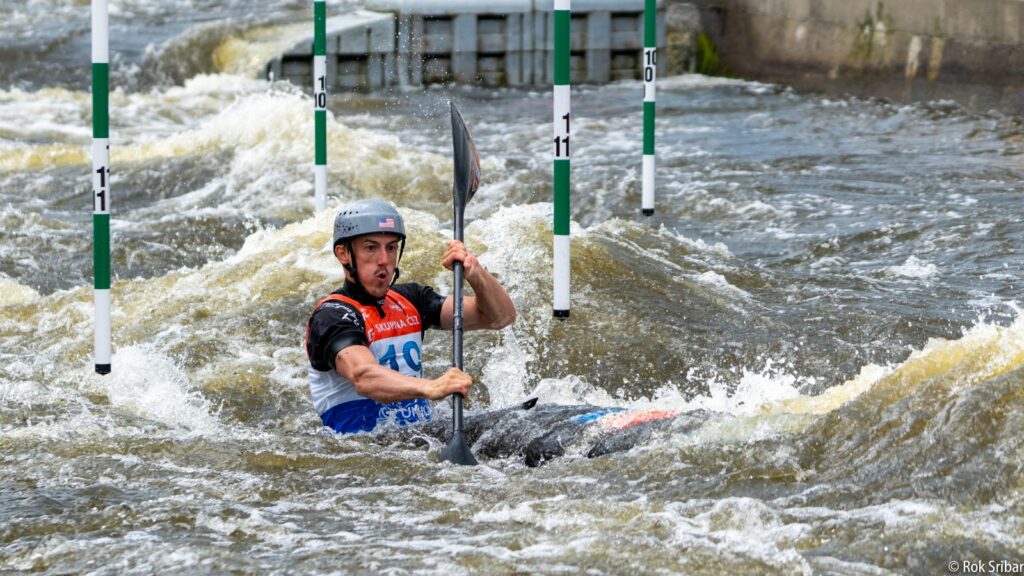 ICF World Cup Prague – Day 1 Recap  
With some overcast weather and afternoon showers, the first day of World Cup Prague has concluded and Team USA took the international stage by storm. Five U.S. athletes progressed to the semifinals: Tokyo bound Evy Leibfarth advanced in both kayak and canoe events, Rio Olympian Michal Smolen and Joshua Joseph advanced in kayak, and Zach Lokken and Casey Eichfield will race again in canoe. 
The stakes are high for the U.S. men as World Cup Prague will serve as the final Olympic selection race ahead of the Tokyo Games this summer. Selection is based on a points system – the higher an athlete finishes, the more points he will receive (see below for pre-competition standings). The athlete with the most points will compete at the Olympic Games in their respective event.
Kayak heats commenced in the morning, featuring Evy Leibfarth and teammates Ria Sribar and Marcella Altman. Leibfarth finished 19th after her first run qualifying for tomorrow's semifinal without a second run. Sribar and Altman will not advance. 
Leibfarth is satisfied with her performance but has a new race strategy as the competition goes on.
 "I'm really happy with my paddling today… I was being a bit more conservative during this run, but in my next one I'm planning to get really aggressive and attack."
In men's kayak, Michal Smolen and Joshua Joseph will progress to the semifinal – the former qualifying after his first run and the latter qualifying in a fantastic second run. Tyler Westfall will not advance. With their performances today, Smolen and Joshua remain in the running for the MK-1 Olympic spot. 
The afternoon session featured the men's and women's canoe heats. Evy Leibfarth took to the course again, qualifying for the semifinal in her first run. Harriet Rollins took two runs and will not progress to the next round. Leibfarth is set to compete in both the kayak and canoe events at the Games this summer.
The men's canoe heats included three-time Olympian Casey Eichfeld (2), along with Nathanial Francis (1) and Zach Lokken (3). Both Eichfeld and Lokken qualified for the semifinal on their first runs, and Nathaniel Francis will not advance. Eichfeld and Lokken will continue to compete for the MC-1 Olympic qualification. 
"We want to do well at every World Cup, but this one holds a lot of extra loaded pressure because it's our last Olympic selection race. My run felt good and smooth… it got me into the semifinals which was today's goal. It's another chance to fight on Sunday," Eichfeld said.
Stay tuned for Day 2 of World Cup Prague tomorrow. The kayak events will come to a close, with semifinals in the morning followed by the finals. Extreme slalom time trials will follow. 
Pre-World Cup Standings
| | |
| --- | --- |
| MK -1 | Points |
| MichalSmolen | 3 |
| TylerWestfall | 2 |
| Joshua Joseph | 1 |
| | |
| --- | --- |
| MC-1 | Points |
| Zach Lokken | 3 |
| Casey Eichfeld | 2 |
| Nathaniel Francis | 1 |
The following points are available at the ICF Canoe Slalom World Cup Prague toward Olympic selection:
MK-1:
| | |
| --- | --- |
| Top 3 Finish | 5 points |
| 4th place – 10th place | 4 points |
| 11th – 20th place | 3 points |
MC-1:
| | |
| --- | --- |
| Top 3 Finish | 5 points |
| 4th place – 10th place | 4 points |
| 11th – 15th place | 3 points |
Saturday 6/12 – Day 2
Day two of World Cup Prague and Michal Smolen has officially secured his ticket to Tokyo in the MK-1 event. Following a great run in the semifinal, Michal finished in 10th place ahead of Joshua Joseph, guaranteeing him the Olympic spot.
Smolen went on to finish 5th in the final against some of the toughest international competition in slalom kayaking. Overall, he feels positive about his performance in Prague and looks forward to his second Olympic Games.
"Today went pretty well considering how much pressure there was on this race. I'm happy it's over now because it has been a long road to Tokyo. I'm excited to go to my second Olympics and will take my experience from Rio to try and get a better result in Tokyo. Now all I have left is to train hard and finish my last bit of preparation."
Earlier in the day, Evy Leibfarth raced in the semifinal of the WK-1. With a few more gate touches than her normal routine, she did not progress to the final. Evy will have another opportunity to make a final in the WC-1 semifinal tomorrow.
The afternoon session featured Eric Jackson in extreme slalom trial runs. The final day of competition in Prague will begin tomorrow with men's and women's canoe semifinals, finals and extreme slalom runs.
Sunday 6/13 – Day 3
The third and final day of competition punched Zach (Bug) Lokken's ticket to the Tokyo Olympics in the MC-1 event. Zach finished second in the semifinal ahead of Casey Eichfeld, granting him the final edge he needed to earn the right to compete at the Games for Team USA.
"I stuck to my plan and did everything well except for a mistake at the bottom that I was able to fix.  I made the final which I was aiming for, but the Olympics was my ultimate goal. I'm so happy about it" Lokken said.
Lokken finished 8th in the MC-1 final with 7.63 seconds of added penalties.
The WC-1 event featured Evy Leibfarth who finished 15th in the semifinal with only the top 10 progressing to the final. Although she did not progress in either event at this World Cup, she is confident heading into World Cup Markkleeberg next week.
"I think I had some good paddling out there. The top part of my run felt good, but the bottom got a little messy – not my best paddling but I'm still pretty happy with my run."
Overall, World Cup Prague was a success for Team USA, punching two tickets to Tokyo for Michal Smolen in MK-1 and Bug Lokken in MC-1. Congratulations to both men as they gear up for the Olympic Games starting on July 23, 2021.