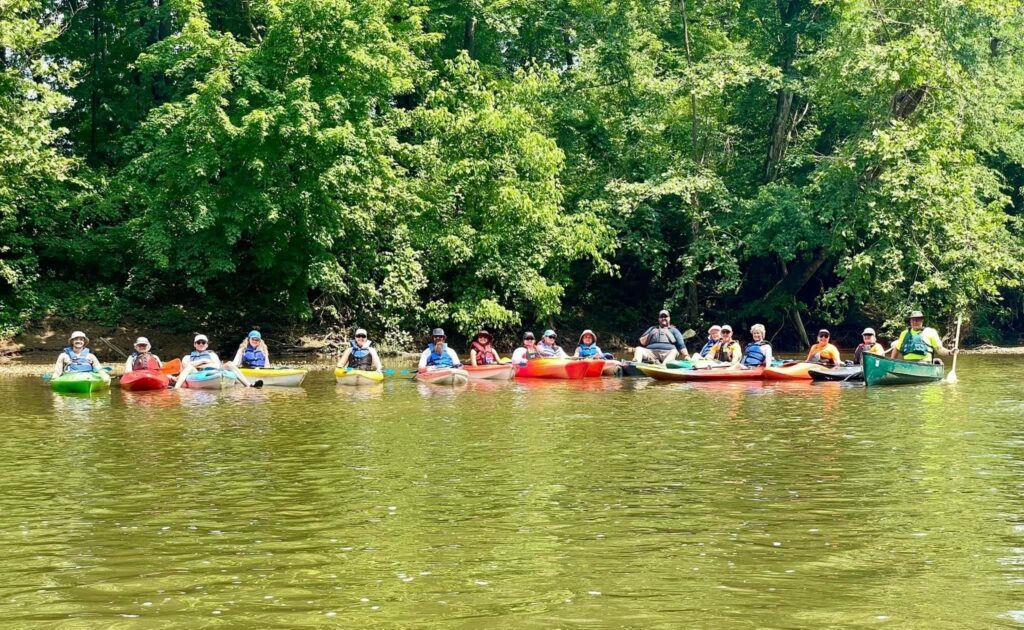 Harpeth River State Park, May 2022  – Photo By: Lanette Burr
ACA TN and ACA NC partner with TN State Parks, TWRA, NC State Parks, NC Wildlife Resources Commission and US Coast Guard Auxiliary to Offer Kayaking 101 for National Safe Boating Week
On May 20, 2023, certified ACA instructor volunteers and safety boaters from more than 37 organizations across Tennessee and North Carolina will be offering Kayaking 101 classes simultaneously at 24 state parks as part of National Safe Boating Week. Classes are being offered at a reduced cost of $15 per person. While registering, participants can choose free kayak rentals with paddles and life jackets for all locations. Each Kayaking 101 Course will be capped at 15 individuals.
…
For ACA Tennessee, this is the second year of this partnership between ACA and Tennessee State Parks and Tennessee Wildlife Resources Agency, which won the four star award in 2022 from the Tennessee Recreation and Parks Association for Innovative Programming. Tennessee will host Kayaking 101 at 13 locations including a Chattanooga-based class at Booker T. Washington State Park that offers Adaptive Kayaking 101 for paddlers with physical disabilities, including access to adaptive kayaks. A Nashville-based class at Harpeth River State Park will be joined by high-performance paddler, Brenton Petrillo from Team Pyranha who will share his joy of kayaking with the participants of this course.
Participating Tennessee State Parks for this year's event are:
Meeman-Shelby Forest State Park

Chickasaw State Park

Harpeth River State Park

Long Hunter State Park

Fall Creek Falls State Park

Seven Islands State Birding Park

Big Ridge State Park

Harrison Bay State Park

Hiwassee/Ocoee Scenic River State Park

Davy Crockett Birthplace State Park

Cove Lake State Park

Warriors' Path State Park

Booker T. Washington State Park 
Register for Kayaking 101 in Tennessee:Boating and Paddling Events — Tennessee State Parks (tnstateparks.com)
…
This is the first year for ACA North Carolina to partner with North Carolina State Parks, U.S. Coast Guard Auxiliary and North Carolina Wildlife Resources Commission for this event. North Carolina will host Kayaking 101 at 11 locations including one class taught by ACA Legends of Paddling award recipient Robin Pope at Lake James.
Participating North Carolina State Parks for this year's event are:
Jockey's Ridge State Park
Hammocks Beach State Park
Carolina Beach State Park
Cliffs of the Neuse State Park
Falls Lake State Recreational Area
Jordan Lake State Recreational Area
Morrow Mountain State Park
Hanging Rock State Park
Lake Norman State Park
Lake James State Park
Register for Kayaking 101 in North Carolina:North Carolina Kayaking 101 Tickets, Sat, May 20, 2023 at 8:00 AM | Eventbrite
…
Events like this would not be possible without the volunteers, support and equipment donations from across the entire paddling community. Everyone came together with a unified purpose to amplify messages about the joy of paddling, the importance of water safety, and the value of a day of training.
In Tennessee, these classes are made possible by the volunteers and contributions from: Appalachian Paddling Enthusiasts; Blues City Kayaks; Bluff City Canoe Club; Catalyst Sports; Chattanooga Therapeutic Recreation Services; Chota Canoe Club; East Tennessee Whitewater Club; Knoxville Kayak Clinic; Nolichucky Outdoor Learning Institute; Ocoee Watersports; Sunseeker Outfitters; Sunshine's Adventures; Tennessee Kayak Anglers; Team River Runner-Atlanta; Team River Runner-Chattanooga; Tennessee Scenic Rivers Association; Tennessee Valley Canoe Club; Tennessee RiverLine; and the West Tennessee Canoe and Kayak Club. This effort is also supported by Pyranha US, headquartered in Erwin, and the Jackson Kayak Foundation, headquartered in Rock Island.
In North Carolina, these classes are made possible by the volunteers and contributions from: Carolina Kayak Club; Great Outdoor Provisions Company; Paddle NC; Campbell University; Outdoor Women by Jo Proia; Kitty Hawk Kites; Frog Hollow Outdoors; Haw River Canoe Company; Catawba Riverkeepers; Cape Fear River Adventures; Rock Outdoors; Nantahala Outdoors Center; Two Sisters Adventures; Team River Runner-Pineland; Lost Paddle Kayak Shop; Carolina Canoe Club; Crossed Paddles paddling club; Liquid Logic Kayaks; Foothills Conservancy; Jackson Kayaks; Feel Free Kayaks; and CBS Sports.