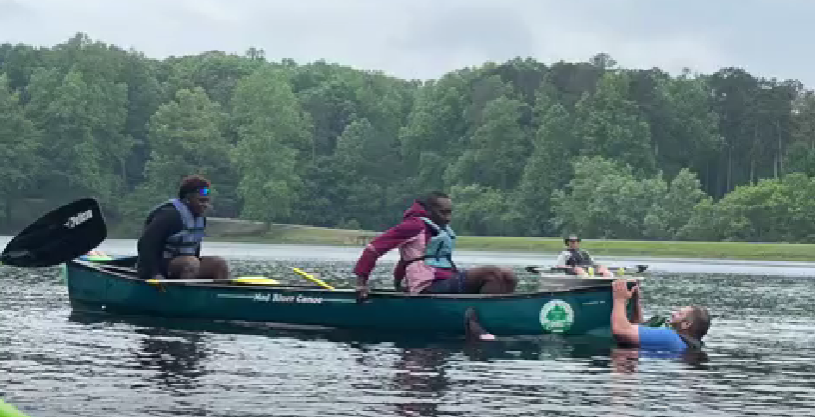 On May 20, ACA instructors across North Carolina and Tennessee joined forces with our paddling community to deliver 24 Kayaking 101 courses to kick off National Safe Boating Week. It was one of the first regional examples of our new ACA Regional Activity Council in action since the council was formed in October with the ratification of the new ACA bylaws. ACA Tennessee was supported by title sponsors Tennessee State Parks and Tennessee Wildlife Resources Agency. ACA North Carolina was supported by title sponsors North Carolina State Parks, North Carolina Wildlife Resources Commission, and the North Carolina flotillas of the US Coast Guard Auxiliary. And the ACA instructors and safety boater volunteers, Paddle America Clubs and other paddling clubs, outfitters, kayak manufacturers, and many other stakeholders in our paddling community showed up in a BIG way to make a difference in their community. 
ACA RAC Chair and Southeastern Regional Chair Andrea White spearheaded the initiative overall and served as project manager for the effort in Tennessee. ACA North Carolina State Director William Holman led the charge in North Carolina. Laura Franklin from Tennessee State Parks and Jake Vitak from North Carolina State Parks served as key contacts on the respective planning teams for state parks engagement. Roland McDevitt represented the US Coast Guard Auxiliary on the planning team for the North Carolina initiative.
Building Relationships Across the Paddling Community 
The May 20th classes were marked with a distinct feeling of the community coming together. The expertise from ACA instructors and volunteers was augmented with real world stories and gravitas coming from state agency personnel. Several Park Rangers and Wildlife Officers noted they learned more than they expected, and a couple even acknowledged personal first successes with kayak re-entry and similar skills. We broke new ground on important relationships with Coast Guard Auxiliarists who are frequently called up to focus more on powerboating safety and are now realizing the opportunity to help with paddlesports safety outreach in their community. And after a series of unfortunate paddler fatalities, news reporters are interested in helping us get the word out about ways to be safe on the water, especially if our volunteers can help to provide the footage from our classes in a way that meets their constraints.
Among the students, we heard many testimonials indicating they felt they had just participated in something really special that was way more valuable than they had realized it would be when they paid their $15.
In the process, we showed prospective students as well as reporters, park rangers, wildlife officers and more where they can go in their community to find answers to their paddlesports questions or to receive further training. We also successfully cross-pollinated across our paddlesports organizations and disciplines to enhance local networks of paddlesports leaders who are working together.
Overall Impact 
In the final analysis, 179 volunteers from 46 organizations (in addition to title sponsors) delivered Kayaking 101 training to 279 people across 24 locations, including one class that focused on Adapting Kayaking. This training was augmented by the multiplier factor of getting our messaging out about the importance of safe paddling and the value of a day of training to (conservatively) more than 200,000 people in the general market spanning 36 news articles, media mentions and interviews and (conservatively) more than 83,000 paddlers through social media.
Sponsors donated almost $23,000 of in-kind contributions and SWAG contributions including free kayak rentals for anyone who wanted to participate in the class at any of the 24 locations; t-shirts and hats for volunteers; as well as gift cards, gear and river guidebooks for students in North Carolina. Jackson Kayak also donated 2 kayaks to Tennessee State Parks Conservancy as part of this program to support paddlesports programming in the parks.
In addition, three state agencies included the link to the free ACA online safety course in joint press releases about the Kayaking 101 classes and Tennessee State Parks also promoted ACA's free online course on their web page and social media.
State by State: Tennessee 
For Tennessee, this was Year 2 of the partnership for ACA Tennessee, Tennessee State Parks and Tennessee Wildlife Resources Agency. We held classes in 13 locations with entry level curriculum specific to the paddling venue and the addition of a class specifically for Adapting Kayaking. Classes were limited to 15 people per location and tickets sold rapidly. In the first 5 days after registration opened, 190 of the 195 seats sold out with all seats selling out very soon thereafter. A statewide rain event affected attendance in ways that could not be helped, but all 13 classes still held on land training, 12 classes were able to get on the water, and 149 people received in person training. We got 2 live tv interviews as part of our media outreach spanning 19 news articles, media mentions and interviews. And even if the only social media metrics we consider are those going through the ACA Tennessee Facebook page, we reached at least 55,000 paddlers. That does not include the metrics from posts by volunteers and partners or by State Parks. In addition, after the Kayaking 101 partnership training event sold out so rapidly, Tennessee State Parks began using their website to refer people still seeking training to ACA instructor led training opportunities statewide and began promoting the ACA free online course.
Of note, Jackson Kayak donated 2 kayaks to Tennessee State Parks Conservancy to support paddlesports programming, and Team Pyranha sent high performance paddler Brenton Petrillo to represent and help spread the love of paddling.
Watch the ACA Tennessee wrap-up video!
Media Coverage:
WKRN – May 3, 2023
WDEF – May 20, 2023
State by State: North Carolina 
For North Carolina, this was Year 1 of the partnership between ACA North Carolina, North Carolina State Parks, North Carolina Wildlife Resources Commission, and the North Carolina flotillas of the US Coast Guard Auxiliary. ACA North Carolina State Director William Holman led the effort for North Carolina. We held classes in 11 locations and similarly limited registration to 15 people per site. The 165 training seats available sold out well in advance of the event date and 130 people ended up receiving Kayaking 101 training in person. News media about the North Carolina event spanned 14 news articles, media mentions and interviews and social media reach through the ACA North Carolina Facebook page reached at least 28,000 paddlers. 
 Media Coverage:
Morganton News Herald – April 20, 2023
The Robesonian – April 28, 2023
These events are ONLY made possible by the support across the community! Here is the list of participating organizations.
ACA Tennessee

 

 

ACA North Carolina

 

 

 

 

Title Sponsors:

 

 

Title Sponsors:

 

ACA Tennessee

 

 

ACA North Carolina

 

Tennessee State Parks

 

 

North Carolina State Parks

 

Tennessee Wildlife Resources Agency

 

 

North Carolina Wildlife Resources Commission

 

 

US Coast Guard Auxiliary

 

Volunteers and Community Support:

 

 

 

Appalachian Paddling Enthusiasts

 

 

Volunteers and Community Support:

 

Bluff City Canoe Club

 

 

Carolina Kayak Club

 

Blues City Kayaks

 

 

Carolina Canoe Club

 

Catalyst Sports

 

 

Paddle NC

 

Chattanooga Therapeutic Recreation Services

 

 

Outdoor Women by Jo Proia

 

Chota Canoe Club

 

 

Catawba Riverkeepers

 

East Tennessee Whitewater Club

 

 

Cape Fear River Adventures

 

Jackson Kayak

 

 

Kitty Hawk Kites

 

Knoxville Kayak Clinic

 

 

Frog Hollow Outdoors

 

Nolichucky Outdoor Learning Institute

 

 

Great Outdoor Provision Co.

 

Ocoee Paddle Boarding and Watersports

 

 

Haw River Canoe and Kayak Company

 

Pyranha Kayaks

 

 

Team River Runner Pineland Chapter

 

Southern Addictions Photography

 

 

Campbell University

 

Stones River Watershed Association

 

 

Jackson Kayak

 

Sunseeker Outfitters

 

 

CBS Sports

 

Sunshine's Adventures

 

 

Feel Free Kayaks

 

Team River Runner Chattanooga

 

 

Two Sisters Adventures

 

Team River Runner Atlanta

 

 

Nantahala Outdoor Company

 

Tennessee Kayak Anglers

 

 

Crossed Paddles

 

Tennessee RiverLine

 

 

Foothills Conservancy

 

Tennessee Scenic Rivers Association

 

 

Rock Outdoors

 

Tennessee Valley Canoe Club

 

 

Lost Paddle Kayak Shop

 

West Tennessee Canoe and Kayak Club

 

 

Liquid Logic Kayaks

 

US Coast Guard Auxiliary