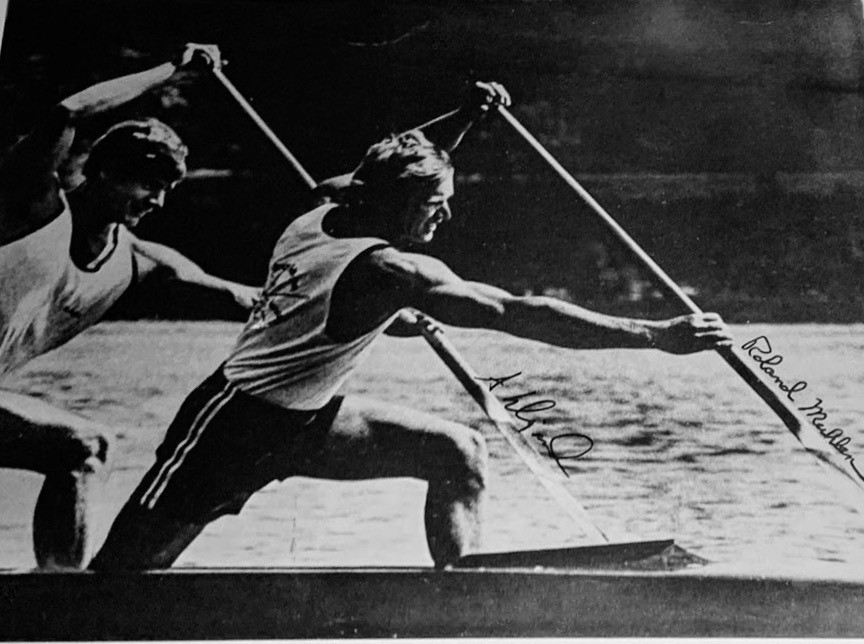 There are dozens and dozens of former US sprint canoe racers who are "of a certain age"; men who are now in their 50's or early 60's who grew up watching Roland race and then, when Roland was near the supposed end of his career, had a chance to race against him. Often, despite his advancing years, the wily veteran often still won. Roland never really stopped racing canoes.
We also remember his amazing craftsmanship. In the late 1970's he often arrived at a racecourse planning to sleep on-site in a Ford van he modified. He customized it by literally cutting the roof off it and installing a lift in the roof, so that at night he could crank up the roof to reveal a custom-made sleep space, complete with side canopies and screens and a full-size bed.
His boat making skills were the stuff of legend. He was making sprint canoes in a special boat shop he built on his own property that were better than production boats at this time. Roland's boats were made from a space-age material never before used in sprint boats, called Kevlar, and were vacuum bagged to increase strength and cut weight, and he was doing it in the late 1970's!! His skill at building extended through his entire life as evidenced by a social media posting Linda made only a few years ago describing a multistory, multifamily, multiple entrance and exit, house Roland hand built and installed on their property ~ this time for mosquito eating Purple Martin birds.
Roland set a very high bar for all of the sprint canoe paddlers to follow and was a mentor to many.
This thoughtful passage of remembrance was written by Jim Ross in collaboration with many of the canoe paddlers from Roland Muhlen's era of racing.
…
For those who didn't have the honor of knowing or racing with Roland, he raced flatwater canoe doubles at the 1972 and 1976 Olympics with Andreas Weigand. Roland was still competing into the 2000s, and won 26 national titles at various stages, including the 2006 C-2 masters mixed event with his wife, Linda.