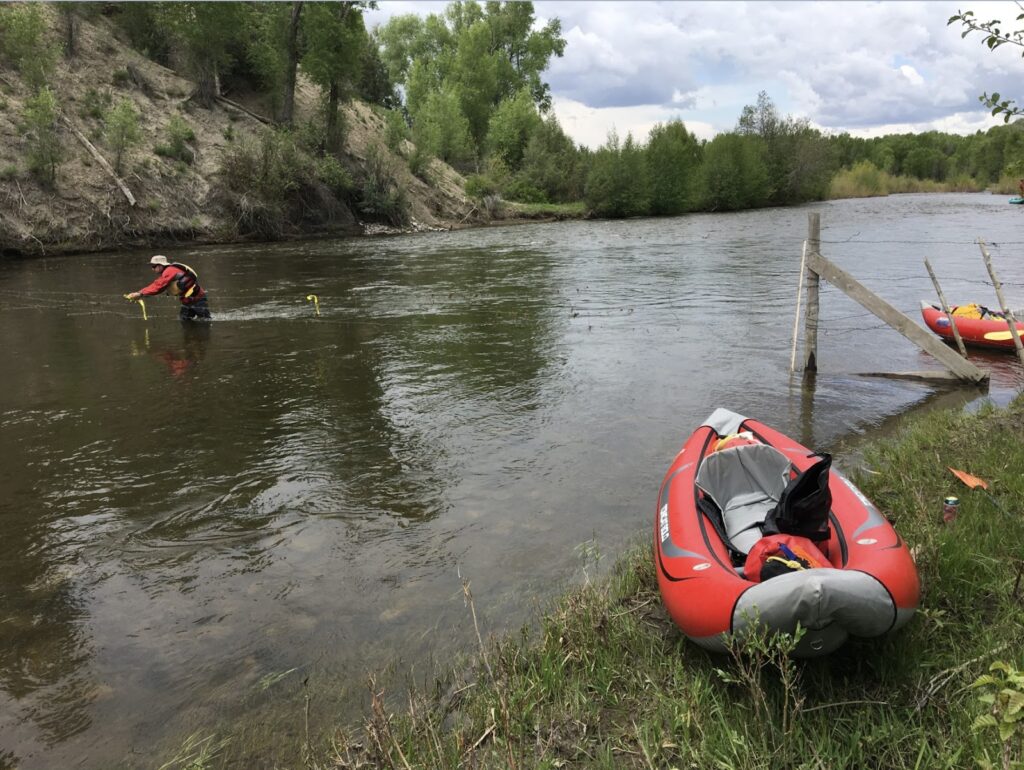 A paddler marks a barbed wire fence across a river in New Mexico. Photo by Scott Carpenter.
Thank you to our New Mexico State Director, Michael Carney for providing these updates on the Adobe Whitewater Club vs. the State Game Commission case led to the protected access of public waterways by the New Mexico Supreme Court. This serves as a valuable reminder why it is so important for paddlers to remain vigilant in defence of our public waters.
Stream Access Upheld in New Mexico:
The writers of the New Mexico state constitution must have been paddlers at heart because in 1911 they made sure to include public access to all streams and rivers in New Mexico. Since that time the New Mexico Supreme Court has upheld the public's right to paddle, float, and wade through rivers and streams across the state multiple times. This February the US Supreme Court joined the people of New Mexico by declining to hear a case brought by private landowners that sought to privatize the public waters of New Mexico.
Thank you to the Adobe Whitewater Club of New Mexico ("AWC," an ACA Paddle America Club) members, board of directors, and other community volunteers and organizers for your swift and continued action in protecting public access to New Mexico's rivers and streams.
The AWC, Backcountry Hunters and Anglers, the New Mexico Wildlife Federation, Rio Grande Restoration, American Whitewater, and many individual contributors raised $28,000 to defend public stream access in New Mexico. Thanks to the help of both local pro-bono representation in New Mexico and pro-bono representation by Stanford Law, this was more than enough to cover the other costs associated with both the New Mexico Supreme Court and SCOTUS suits. Part of the remaining funds will be dedicated to continued water access protection, fence removal, and other paddling-related causes.
Stream Access in New Mexico – A Recent History:
In 2018 the New Mexico Game Commission passed a rule to allow private landowners to apply for a permit to declare sections of rivers and streams that run through private property as "non-navigable." These permits would allow landowners to completely restrict the public from floating or wading through these river sections after legally accessing the river.
In 2019 five such permits were granted, including sections of the Rio Chama and Pecos rivers – both commonly used by whitewater and recreational paddlers, as well as anglers.
In 2020, the Adobe Whitewater Club along with the Backcountry Hunters and Anglers New Mexico Chapter and New Mexico Wildlife Federation pooled their resources to file a petition in the New Mexico Supreme Court seeking to overturn this rule and invalidate the existing permits.
In 2022, after hearing oral arguments, the New Mexico Supreme Court unanimously agreed to overturn the rule and invalidate the non-navigability permits.
In late 2022, a few of the private landowners who initially applied for those unconstitutional non-navigability permits were not satisfied and soon after filed suit in the United States Supreme Court naming the Adobe Whitewater Club, New Mexico Backcountry Hunters and Anglers, and the New Mexico Wildlife Federation directly.
In February 2023, The US Supreme Court declined to hear this case, thus upholding and reaffirming the New Mexico Supreme Court's decision and putting an end (for now) to the question of stream access in New Mexico.
The Adobe Whitewater Club and the ACA in New Mexico will continue to keep a watchful eye as these private landowners have signaled that they will continue to mount baseless legal attacks against the public's constitutional right to wade and float the rivers and streams of New Mexico.