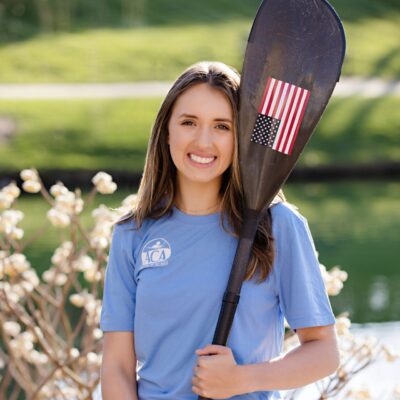 Laura Plata
| | |
| --- | --- |
| Hometown | Charlotte, NC |
| Events | Kayak Slalom , Canoe Slalom , Kayak Cross |
| Years On Team | 2 (since 2022) |
| Club | Nantahala Racing Club |
| Born | 07/30/2005 |
| Schools/Work | Stanford OHS |
| Hobbies | calligraphy , traveling and exploring boba tea shops |
"Life is not easy for any of us. But what of that? We must have perseverance and above all confidence in ourselves. We must believe that we are gifted for something and that this thing must be attained." -Marie Curie
3 THINGS YOU DIDN'T KNOW ABOUT LAURA PLATA
Laura lived 5 years in Bogota, Colombia.
She first started kayaking at 14.
Laura speaks Spanish and English fluently and has been learning Chinese over 10 years.
USA Team Trials

2023 Oklahoma City, OK:


3rd WX
First Strokes
In the summer of 2019, I went to a summer camp where one of the activities offered was kayaking. The instructors took us to one of the rivers in North Carolina, and I loved it. When I got back to Charlotte, I asked my parents to take lessons at the USNWC, and the rest is history!