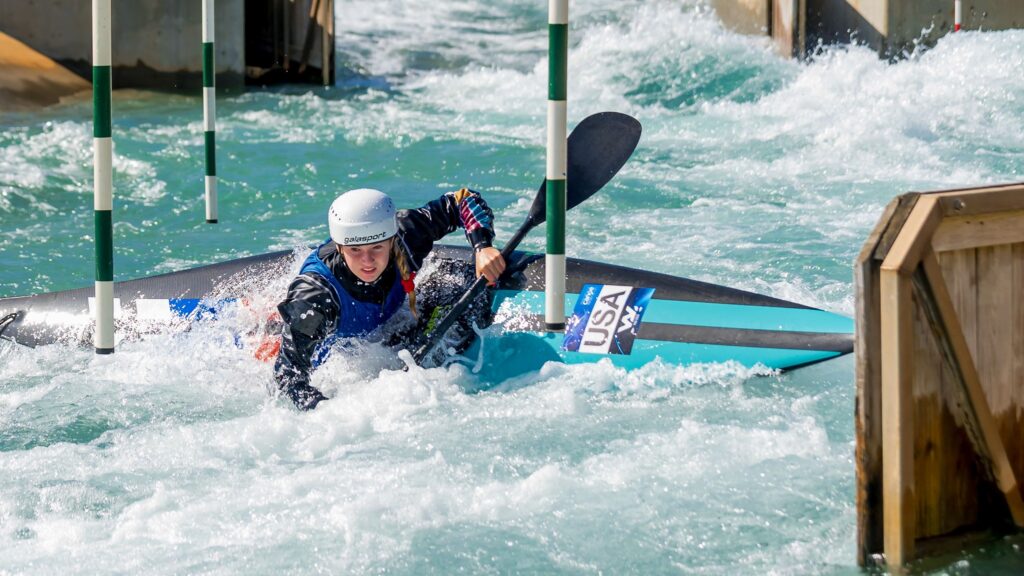 Day 3 of competition at the Kasai Slalom Center in Tokyo, Japan, kicked off today with the women's single kayak (WK-1) semifinal followed by the event final. 24 women competed in the semifinal and only 10 advanced.
The United States' Evy Leibfarth finished 12th in the semifinal and will not advance to the final. She was slightly less than a second behind the 10th place finisher from Poland, Klaudia Zwolinska. Her total time of 112.73 included no added penalties.
"It's always frustrating to be on the cusp of making it or not making it, but I had some parts of my run that I'm really proud of and I'm looking forward to taking this with me into my C-1 runs later this week."
Does her experience at Kasai in K-1 give her an advantage for C-1? Leibfarth says yes.
"In slalom, you don't get to practice to course beforehand and the actual gates are a surprise until the night before. You only get to watch people on it. So having done K-1, I can see where the water is moving and feel a bit more prepared."
Tomorrow, Evy will get another chance at an Olympic semifinal in as women's canoe makes its Olympic debut in Tokyo. Rio Olympian, Michal Smolen, will join her at the course in the heats of the men's single kayak (MK-1).
Congratulations to Evy on her Olympic debut in the WK-1 and finishing 12th in the world as the youngest competitor in canoe slalom at 17-years-old.
Follow @officialusacanoekayak on instagram and USA Canoe and Kayak Team on Facebook for live updates and team news.
For media inquiries, email press_office@americancanoe.org.