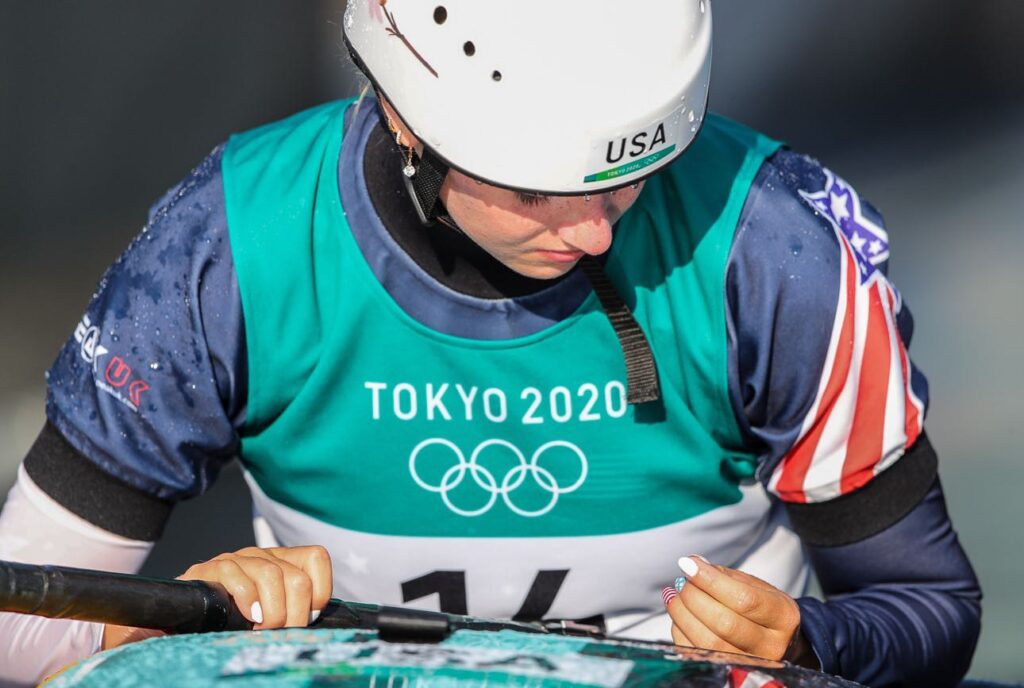 It was a historic day at the Kasai Slalom Center as the first ever Olympic heats of the women's canoe singles event (WC-1) took off. Following this were the heats of the men's kayak singles (MK-1).
The women's canoe heats featured 17-year-old Evy Leibfarth racing in her second event of the Olympic competition. Yesterday, she finished 12th in the WK-1 semifinal as the youngest slalom competitor in Tokyo. Today's men's kayak heat saw Michal Smolen take his first race run down the course. Both athletes ultimately progressed to the semifinal of their respective event.
The top 18 of 22 athletes in WC-1 and the top 20 of 24 athletes in MK-1 advance to the next round of competition.
Leibfarth's first run down was a success. She finished 7th with a time of 115.55 including a two-second added penalty which secured her ticket to tomorrow's race. Michal Smolen followed with a time of 96.61 with four seconds of added penalties, placing him in 13th after his first run.
Leibfarth's second run was even better than her first – it was slightly over two seconds faster (due to an added two second penalty on run 1). She finished 6th with a clean run only one spot behind gold medal favorite Jessica Fox of Australia.
After two days straight of competing, Leibfarth still has more to do.
"[My arms] are a little bit sore for sure and the heat is pretty killer, so I'm just overall tired, but I'm ready to recover this evening."
With only a day to go until her second Olympic semifinal, she plans to rest up and have the run of her life tomorrow.
But as we all know, making history on the biggest world stage in all of sport can be a lot of work, but Leibfarth will never forget this moment.
"I'm so proud to be part of such a historic moment with all of these other amazing C-1 girls. Having a gender equal canoe slalom has been a big goal for a lot of women in the sport for years, even before I started competing, so this is exciting and such a good step."
Smolen's second run followed Leibfarth's success but it ultimately knocked him down in the rankings.
"I wasn't flowy on the second run and I just threw the run away and almost got a 50. Then on the second run I was so tired I couldn't even pull. I'm happy I made it but I feel so bad about my racing today."
Catch Evy Leibfarth on the course for her final day of racing at the Olympic Games here in Tokyo tomorrow starting at 2 pm local time (1 am EST/ 7 am CET) for the semifinal of the WC-1.  Smolen will race again on the final day of the canoe slalom competition on Friday July 30.
Follow @officialusacanoekayak on instagram and USA Canoe and Kayak Team on Facebook for live updates and team news.
For media inquiries, email press_office@americancanoe.org.