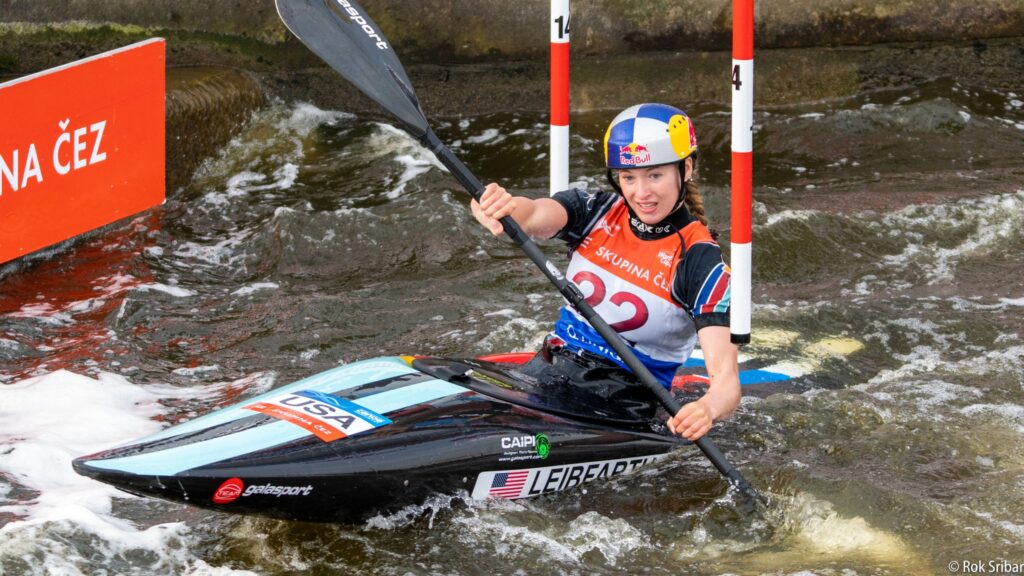 The men's single canoe (MC-1) semifinal hit the course today at the Kasai Slalom Center in Tokyo. Out of the 15 athletes who competed in the semifinal, the top 10 advanced to the final. None of the athletes had ever practiced on the semifinal course – the gates were changed from the heats to the semifinal, but remained the same for the final.
After making his Olympic debut yesterday in the heats, Bug Lokken secured his ticket to the MC-1 final after finishing seventh in the semifinal with a total time of 103.97, including a two second added penalty.
Only about an hour after the semifinal, the men's final began on the same tough course from the previous round. Lokken finished 7th overall with a total time of 106.08, which included a two second added penalty on gate 24 of 25. Benjamin Savsek of Slovenia won the gold medal 3.71 seconds ahead of silver medalist from the Czech Republic, Lukas Rohan. Sideris Tasiadis, the number one ranked paddler and gold medal favorite, took the bronze.
"I'm still really happy with my run and I fixed a lot of the mistakes from my first run. My goal was to reach the final but the dream was to win a medal. Either way, I'm still really happy," Lokken said.
But this is not the last time you'll see Bug on the world stage. He is coming back for more.
"I'll be back for Paris 2024. I got the adrenaline of [the Olympics] and I think this is a great race to show what you can really do."
The women's kayak singles (WK-1) semifinal begin tomorrow at 2 pm local time (1 am EST/ 7 am CET) with Evy Leibfarth representing the United States. The event final will follow.
Congratulations to Bug Lokken and go #TeamUSA!
Follow @officialusacanoekayak on instagram and USA Canoe and Kayak Team on Facebook for live updates and team news.
For media inquiries, email press_office@americancanoe.org.