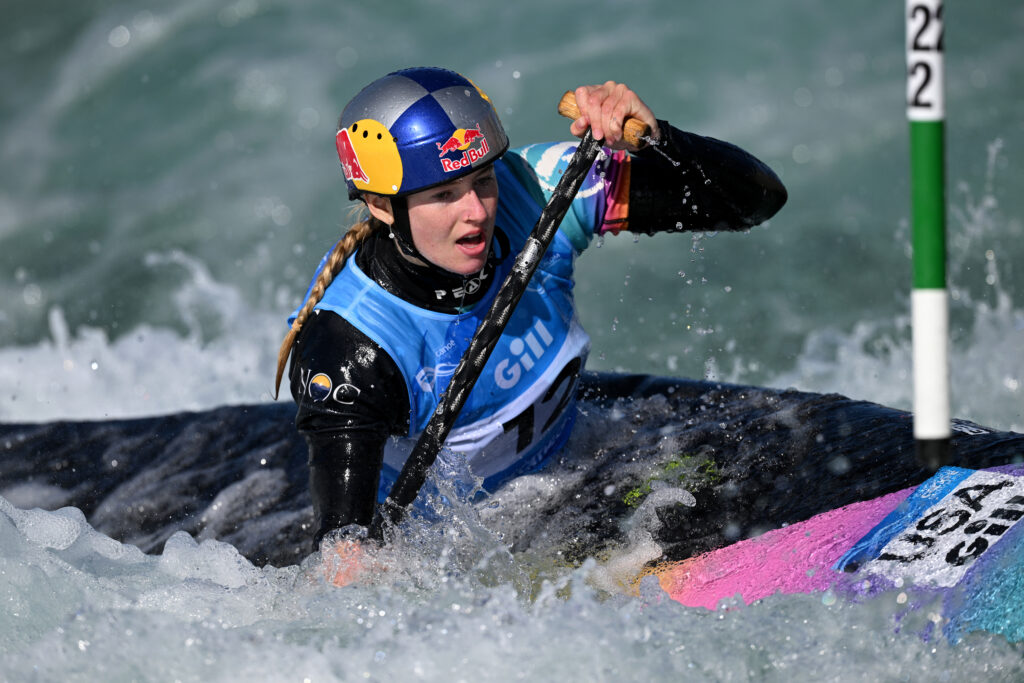 Photo Credit: Justin Setterfield/Getty Images 
Athlete: Evy Leibfarth
Twelve American athletes represented the United States last week at the 2023 ICF Canoe Slalom World Championships in Lee Valley, Great Britain. Athletes qualified their spots at Team Selections hosted by RIVERSPORT in OKC back in April and prepared for the event by competing in World Cups throughout the summer as well as training at the Lee Valley Whitewater Centre, which as built for the 2012 London Olympic Games. 
Fresh off her U23 World Championship victory a month prior, 20-year-old Evy Leibfarth threw down with the best of them, finishing 7th in Women's Canoe and 12th in Women's Kayak. 
"I'm so happy to have qualified the U.S. a quota spot. It was a stressful race, since only 12 countries get spots and there were so many talented athletes racing. The course in London is tricky, but the whole team spent a lot of time training on it this year, so I felt prepared to put down the run I did when it counted. I am proud of the whole team and our effort," shares Evy Leibfarth. 
Evy's result was followed by a 19th place finish in Men's Canoe for Casey Eichfield, who was competing in his 13th World Championships, and a 27th place finish for Zach (Bug) Lokken, who flipped in the bottom part of the course after a great top section. 
In the Kayak Cross events, Kyler Long followed his bronze medal performance at Junior World Championships with a respectable 55th place finish as one of the youngest athletes in the field at only 18 years old and in his first Senior World Championship. Kyler was one of three from the Long family competing in the Men's Kayak Cross event. Bryson finished in 65th place and Tren finished in 68th place. 
Athletes were not only competing for the title of "best in the world", but they were also qualifying all important Olympic quota spots for the 2024 Paris Games. Well done to Evy and Casey for securing the U.S. Olympic quotas for both Women's and Men's Canoe! 
"Knowing we needed to be in the top 12 nations to qualify a spot adds a lot of pressure, but we put ourselves in a good position with two canoes in the men's finals and were able to get the job done!" reported Casey Eichfeld. 
"These global qualifications went better for Team USA than the previous 3 or 4, but our MK1s will have to fight for the final quota at the Continental Qualifier in Rio De Janeiro next March. The next step for all the athletes will be securing their individual tickets to Paris at the U.S. Olympic Trials in April," shared Rafal Smolen. 
Unfortunately, as Rafal said, the team did not qualify any kayak quotas. Joshua Joseph finished 49th in Men's Kayak and was followed by Tyler Westfall who finished in 51st place, putting them both outside of the fifteen quota spots awarded at the championship. For Women's Kayak, Ria Sribar just missed securing an Olympic Quota but can still boast a World Championship WK1 personal best of 32nd place. This result could still end up qualifying a quota spot through reallocation, which will be decided in the next couple of weeks. 
The U.S. will have the opportunity to qualify men's and women's kayak and kayak cross quotas next spring at the Continental Qualifier in Brazil. Stay tuned as these athletes continue to work hard throughout the winter in preparation. 
Full National Team Results: 
Women: 
Evy Leibfarth – 7

th

WC1, 12

th

WK1, 22

nd

WX1

 

Ria Sribar – 32

nd

WK1

 

Marcella Altman – 42

nd

WC1, 59

th

WK1, 56

th

WX1

 
Men: 
Casey Eichfeld – 19

th

MC1

 

Zach Lokken – 27

th

MC1

 

Joshua Joseph – 49

th

MK1

 

Tyler Westfall – 51

st

MK1

 

Kyle Long – 55

th

MX1

 

Nathaniel Francis – 57

th

MC1

 

Bryson Long – 65

th

MX1

 

Tren Long – 68

th

MX1

 

Kaelin Friedenson – 86

th

MK1, 89

th

MX1