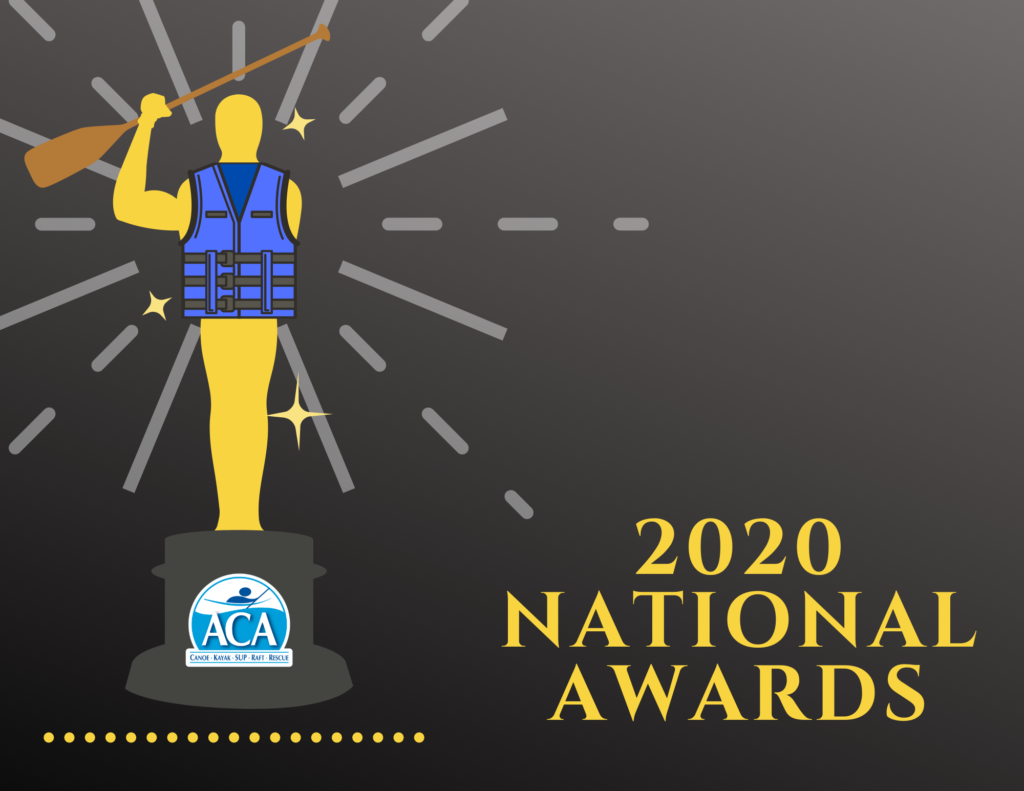 We are very proud to announce the winners of the 2020 ACA Annual Awards! These prestigious awards highlight some of the best in the ACA paddling community and we are proud to celebrate these individuals, events, and paddling groups. The annual awards are presented every year at our annual ACA conference, which was virtual this year! To watch the awards ceremony, check out the conference recordings, here. Thanks to everyone who submitted a nomination for your favorite instructor, event, or club!
Anna is a well-known expert on paddling instruction for women and yoga for paddling, including SUP Yoga. Anna was included in the 2017 "Most Inspirational Outdoors Person" in Blue Ridge Outdoors Magazine, and was named one of the most inspirational paddlers alive by Canoe and Kayak Magazine. Her twenty-plus years of experience as an international competitor and instructor have given her the opportunity to empower paddlers all over the world, most notably on the rivers near her current residence in Asheville, North Carolina.
Anna Levesque is an ACA Level 4: Whitewater Kayaking Instructor Trainer Educator, Level 2: Essentials of SUP Instructor Trainer Educator, Level 5: Advanced Whitewater Kayaking Instructor, SUP Yoga Instructor Trainer, and is the current chair of the ACA SUP Committee.
A quote from one of her students: "I learned more about professionalism and top-notch instruction than I ever knew was possible. Anna holds the highest standard while beaming compassion and investment in her students."
On behalf of the Board of Directors, the Safety Education and Instruction Council, and the ACA staff – congratulations Anna!
For nearly a decade, paddlers and friends of Carolina Canoe Club have been showing up to paddle the Mayo River in remote Henry County, Virginia and Rockingham County, North Carolina. This annual "ice breaker" is considered by veterans to be a mini version of CCC's Week of Rivers.
Organized by Carolina Canoe Club's Cruise Chair, Joe Berry, the Mighty Mayo River trip (MMRT) is an opportunity to dust off the winter cobwebs and holiday crumbs with a group of welcoming paddlers and friends. Using the power of numbers, stewardship and conservation are easily added to the fellowship of the day.
In addition to the paddling trip and associated conservation efforts, event organizers collect donations and food for LOT 2540, a local food bank, and host a post event potluck menu for the takeout.
Once off the river and refortified, volunteers completed a sweep of the riverside roadway and surrounding park. The trash collected has fortunately been trending downward in recent years as the park is more frequently patrolled by local authorities. This year's cleanup yielded dozens of bags of trash.
Event organizer, Joe Berry's, famous tagline is: " If some slacker C-boater like me can organize an event in the dead of winter that draws around 40-50 boaters, imagine what you can do?"
Congratulations to all members of the CCC who have played a role in this impactful event!
Carolina Canoe Club's conservation efforts, led by longtime member Bob Brueckner, have been numerous and far reaching. This was accomplished by forging and continuing partnerships with sister organizations like the Ellerbe Creek Watershed Association, the Haw River Assembly, Friends of the Lower Haw River State Natural Area, Paddlers Hemlock Health Action Taskforce, Watershed Association of the Tuckaseegee River, Swain Clean, local schools, and other civic groups.
Before the COVID-19 pandemic restrictions went into effect in North Carolina, several large group events were planned and executed. After that time, COVID-19 guidelines and event modifications were put into place so that solo and properly socially distanced small group efforts could continue throughout spring and summer of 2020. Those events have made a continuing positive impact on waterways.
2020 is Bob's sixth and final year of service as the CCC Conservation Chair, and we are proud to honor his and CCC's decades long commitment to waterway conservation and their overall love of paddlesports.
Bob, once again – congratulations and we are proud to honor you and the Carolina Canoe Club with the Green Paddle for Waterway Conservation award!
James "Jim" Tibensky has been described by his friends and peers as "one of the most selfless and giving people that I know." His service and dedication to paddlesports has been long withstanding – from being an International Canoe Federation judge, competing locally, regionally, and nationally in many different paddlesports disciplines, and now selflessly serving the Chicago Voyagers as the Volunteer Program Leader.
Jim is a key volunteer for Chicago Voyagers – bringing expertise in outdoors skills and also youth work. He is currently a Level 5: Advanced Open Water Coastal Kayaking and Level 4: Whitewater Kayaking Instructor. Jim helps to mentor the youth as a kind and patient listener, whether about paddling or overarching life skills.
Jim, you are more than deserving of being the ACA's Joe Pina Volunteer of the Year. Thank you for your selfless service and unparalleled ambassadorship of paddlesports!!
In a year that has been anything but normal, the Tennessee Valley Canoe Club (TVCC) stands out as a group that was able to carry out what is believed to be its finest year in a long history of excellence. As one of ACA's Paddle America Clubs, TVCC has further solidified their commitment to ACAs mission to further paddlesports education, stewardship, recreational opportunities, community, and even competition.
TVCC has worked tirelessly in developing COVID-19 paddling protocols to be able to provide clinics. The Summer Whitewater Training Program was successfully reestablished after evaluating COVID-19 protocols and has run 14 trips on the Hiwassee, Nantahala, Pigeon, Green, and Wesser Rivers for over 150 students through September. The flatwater program saw significant growth and has led over 400 paddlers down local creeks to date. Additionally, TVCC held its very popular Rescue Rodeo, a course that teaches fundamental whitewater safety skills and techniques to 20 students and held a Swift Water Rescue course for 15 more.
In addition to the above, in January of 2020 TVCC completed development of an interactive map depicting 255 locations of access ramps, riverside camping, outfitters, and scenic opportunities for flatwater paddling within a 1 hour drive of Chattanooga. The map was widely shared with outlets that support the local paddling community including government and tourism organizations. Supporting this map, and safe paddling for the entire local community, is the TVCC creek maintenance program, now in it's seventh year, which this year conducted 88 miles of river maintenance, employing over 250 man-hours, by a team of seven volunteers.
TVCC, thanks for going above and beyond and helping to represent the ACA as a Paddle America Club!
Andrea White not only serves as a member and leader for the TVCC but also the ACA Tennessee State Director. She has worked countless hours for both organizations with the overarching goal of making paddling a fun, safe, and accessible activity.
Through her hard work, she has built and established relationships between all of the five Paddle America Clubs in Tennessee, stewardship initiatives – namely for the beautiful Nolichucky River to be designated as Wild and Scenic, worked closely with Tennessee Wildlife Resources Agency to maintain a positive relationship with paddlers, and countless hours of work on developing COVID19 strategies when faced with the pandemic, she pivoted to continue to provide boater education and much, much more.
It is not possible to truly convey the magnitude of your hard work, but we hope that this award expresses out gratitude for your amazing, impactful work as an ACA State Director!
Marsh Jones has served as chair of ACA's Competition Council since its inception in 2017.  When ACA became the NGB for paddling, we entered a new world of competition, but also a new world of regulation. Marsh has led ACA's competition side through the past 3 years, as we learned what changed between 1984 and now. His work helped create the strongest competition team we've seen in years, while also helping build relationships between competition and ACA's other wings. Marsh, thank you for all your work!
From ACA Board Chair, Robin Pope: The highlight of my year as ACA chair is the opportunity to recognize people who have made a difference in paddling. This year's award goes to a group that saved a life and demonstrated the best ideals of the paddling community.
Earlier this year, a rescue occurred on at Kanawha Falls in West Virginia. A paddler was trapped behind in a flake behind a waterfall, heads up but unable to escape. His boat was found floating downstream and local rescuers started a search. At sunset, they stopped. However, local boaters learned about this, contacted the local professional rescuers and were able to initiate a search close to midnight. Shortly after, they found the subject and successfully rescued him. Charlie Walbridge, one of the pioneers in swiftwater rescue, describes this as the most miraculous rescue he's heard of in 50 years. The cooperation and coordination of many paddlers and professional rescuers, that started years before as they created positive relationships between paddlers and rescuers, led to a fellow boater – who would almost certainly have died – going home to his family. This year's President's Award goes to the members of the Kanawha Falls rescue team. Details of the rescue will be on the ACA website after this meeting. We have a brief video made by one of the participants that we'd like to share.
I'm amazed and inspired by the people who performed this rescue, and thank them for their amazing efforts.