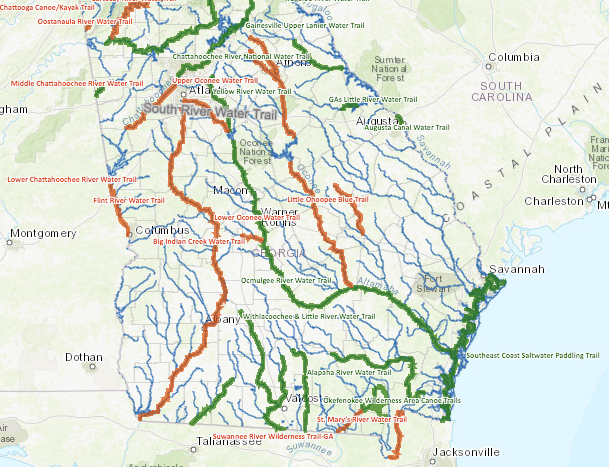 Calling all Georgia paddlers!
The Georgia River Network is developing an amazing app to provide real time information on Georgia's incredible network of water trails including coastal waters, rivers, and lakes!
If you are familiar with Georgia's waterways, we need your help to gather and review key pieces of information that will be useful to paddlers all over the state. If you'd like to support this project, please contact ACA Public Policy Chief Brett Mayer: bmayer@americancanoe.org.
Click here to check out the GA River Network!
Here are the water trails to be included:
Alapaha River Water Trail
Altamaha River Water Trail
Augusta Canal Water Trail
Big Indian Creek Water Trail
Broad River Water Trail
Chattahoochee River National Water Trail
Chattooga Wild and Scenic River Trail
Conasauga Canoe Trail
Coosawattee Watershed Water Trail (Cartecay, Elijay, & Coosawattee rivers)
Dub Denman Canoe Trail (Tallapoosa River)
Etowah River Water Trail
Flint River Water Trail
Gainesville Upper Lanier Water Trail
Georgia's Little River Water Trail
Little Ohoopee Blue Trail
Lower Chattahoochee River Water Trail
Lower Chattooga Canoe/Kayak Trail
Lower Oconee River Water Trail
Middle Chattahoochee River Water Trail
Ochlockonee River Water Trail
Ocmulgee River Water Trail
Okefenokee Wilderness Area Canoe Trails
Oostanaula River Water Trail
Satilla River Water Trail
Savannah River Water Trail – Serene 18
South River Water Trail
South/West Chickamauga Creek Blueways
Southeast Coast Saltwater Paddling Trail
St. Mary's River Water Trail
Suwannee River Wilderness Trail – Georgia
Toccoa River Canoe Trail
Tugaloo River Water Trail
Upper Chattahoochee River Water Trail
Upper Oconee Water Trail
Withlacoochee and Little River Water Trail
Yellow River Water Trail