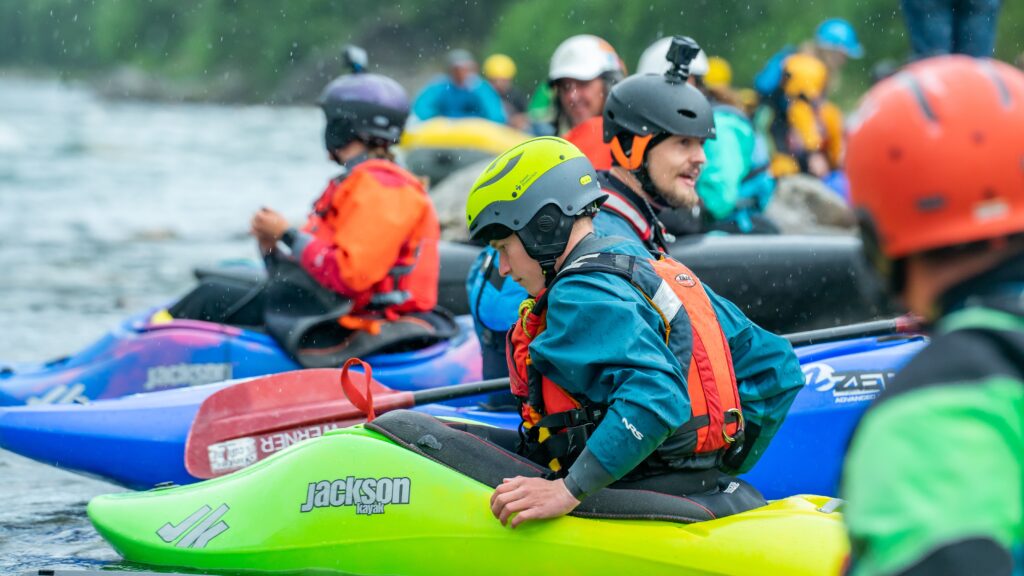 A new study from the Virginia Tech Helmet Lab tested and rated twenty-four whitewater paddling helmets based on their ability to reduce linear and rotational acceleration of the head from a range of whitewater and paddlesport head impacts. Helmets were ranked upon a STAR evaluation system; those with more stars are better at preventing concussions than helmets with less stars. To ACA's knowledge, this independent study was the first effort of its kind. The results of the study provide paddlers with another resource to consider when choosing which helmet is best for them.  
Remember that helmet designs incorporate features that do more than reduce the risk of concussions. Whitewater paddling helmets with larger and more pronounced brims not only provide increased sun protection, but they also can create a larger air pocket when submerged. Full face helmets can help reduce injury to the face and jaw. Helmets with ear coverage help reduce likelihood of impacts to the ear, as well as decrease the amount of cold water entering a paddler's ears.   
Even the best helmet, if not fit properly, can do more harm than good. All five of the top ranked helmets in this study are made by the manufacturer Sweet Protection, which uses the same MIPS technology that is used in motorcycle helmets. This brand of helmets is known for running small and fitting especially tight around the temples. It is highly recommended that paddlers try on a helmet before purchasing and take into consideration the factors that impact their specific paddling activities. 
The inclusion of whitewater paddling helmets in scientific studies such as this one conducted by Virginia Tech, is a testament to the increased representation of paddling in outdoor adventure sports. Since their 2011 study of varsity football helmets, the Virginia Tech Helmet Lab has conducted impact tests on a range of helmets for different sports including skiing, biking, and hockey. These independent studies are especially valuable because they do not receive funding or influence from helmet manufacturers. 
To access the results of the study and to learn more about how this study was conducted, click here. Additional information presented by Virginia Tech which features the ACA's Board President Robin Pope can be found here.