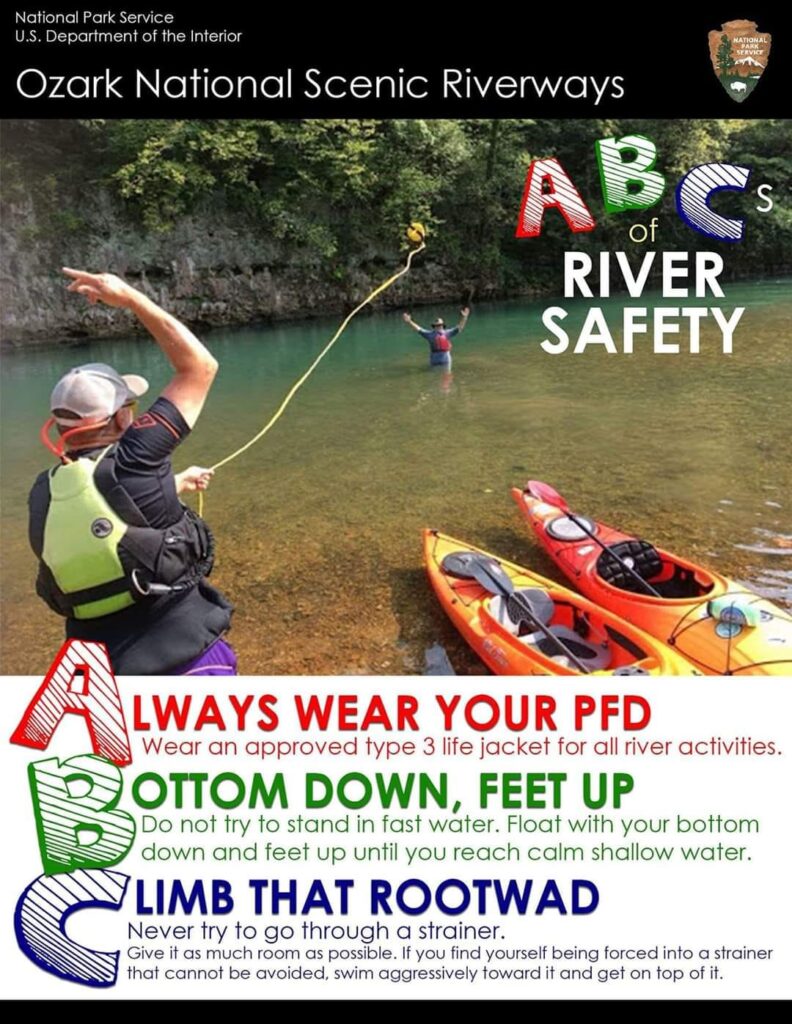 The September 2020 ACA Instructor of the Month is Dave Tobey from Van Buren, Missouri! The ACA staff recently had a chance to virtually sit down with Dave and talk about his work an ACA certified instructor working with paddlers in national parks, national forests, and other wild places.
Working in national parks, national forest, and state parks is the best job in the world. There is no such thing as a "typical day." Each day is as unique as the variety of visitors encountered and as special as the resource you are sharing. Being an ACA Instructor has allowed me to serve visitors on the Current River in the Missouri Ozarks, the Turner River in the swamps at Big Cypress National Preserve, and on lakes in the Okanagan Forest of Washington.
I grew up on the Current River and love to share this wonderful resource with other people. I want visitors and community members to have the best experience possible on the river. After serving a couple of years as a seasonal park ranger on the Jacks Fork and Current River, I witnessed some of our visitors struggling on the river.
In 2010, I decided to take a tandem canoe instructor certification class. That summer, while serving as a seasonal park ranger for the ONSR, I started offering ACA skills classes for visitors at Round Spring on the Current River. I also presented a dry land basics class as part of my evening program each week. In 2014, I organized our first ACA Instructor Certification Class on the Current River. Since then, we have offered a certification class each year, and as a result, the ONSR has over 30 staff members and volunteers eligible to assist as certified instructors.
Another great pleasure has been the development of meaningful partnerships with other like-minded organizations. Team River Runner and local Coast Guard Auxiliary 5-2 have become valuable park partners assisting with several river safety programs. One Planet Adventures and Instructor-Trainer Ivan Bartha provided most of our instructor certification opportunities. Dr. Hoss Gibson, recreation professor at Missouri State University, helped create our River Patrol program and supplied us with valuable students to serve as interns in the park. In 2010, we started our skill class offerings with the assistance provided by the Alpine Shop under the direction of their program manager Marty Koch.
The Ozark Trail Association has spent thousands of hours completing connecting trails on the upper Current River and creating unique hike-paddle options for visitors. Since my return in to the Riverways in 2008, Reta Barkley has been my partner and constant companion. The park considered us a "two-for-one deal" and she has been a great source of support and encouragement the last 12 years. I am very thankful to the park for providing many opportunities over the last several years and our visitors for their interest in paddling programs. It all comes down to "Better Skills = More Fun!"
Upon my retirement in November 2019, I began planning and organizing a new official partner/friends group for the ONSR which is now called the Ozark Riverways Foundation. On September 26th, 2020 we had our first public meeting and established our work program for 2021.
Mission Statement for the Ozark Riverways Foundation: The specific purposes for which this corporation is organized include, but are not limited to: the preservation and promotion of the Current and Jacks Fork Rivers within the boundary of the Ozark National Scenic Riverways and delivery of programs for scientific, cultural, historical, educational, ecological, recreational, agricultural, or scenic opportunities.
Specific areas of emphasis include:
Promote River Safety
Support Environmental Education Activities
Provide Outreach Opportunities
Maintain and Preserve Historical Structures
Promote Cultural Preservation
Support Trail Activities and Maintenance
Dave – we at ACA are so impressed by your myriad of experiences and heart felt dedication to paddling education & recreation! We are also in awe of your management and care of the public lands which enable such memorable experiences for paddlers of all skills and abilities! Thank you so much for being such an amazing ambassador for the ACA and paddlers everywhere!