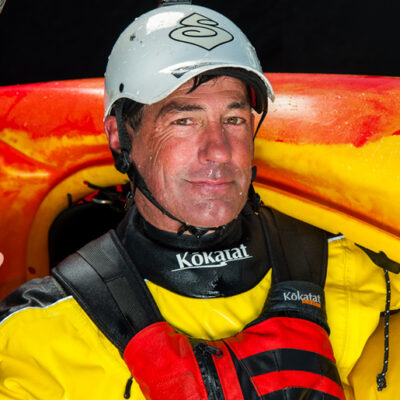 Eric Jackson
| | |
| --- | --- |
| Hometown | Rock Island, Tennessee |
| Events | MK-1 , Extreme Slalom |
| Years On Team | 34 (since 1989) |
| Club | Team Jackson Kayak |
| Born | 03/03/1964 |
| Schools/Work | Founder/President - Jackson Kayak, Apex Watercraft |
| Hobbies | Fishing and Disc Golf |
"On the plains of hesitation lie the blackened bones of countless millions, who at the dawn of victory, sat down to rest and resting died." – Churchill
7 Things You Didn't Know about Eric Jackson
Eric, also known as EJ, created and named more freestyle moves on the score sheet than any other athlete and his instructional materials are the most used today.
EJ is a Professional Bass Tournament angler on the FLW Tour and has made his life on the water for over 40 years.

A reputable kayak designer, he founded Jackson Kayak in October 2003, which has been the best-selling brand worldwide for the past 15 years. EJ's most recent creation, Apex Watercraft, is revolutionizing the kayak market for the second time.
Eric is mostly deaf.

He is often referred to as "Boatercross" in the general kayaking arena.

EJ won six out of seven Gorge Games Extreme Slalom events, against the world's best, as well as dozens of these races across the USA and Europe.
He is the author of four instructional books and eight videos teaching many aspects of whitewater kayaking, including river running, playboating, rolling and bracing.
Olympics

1992: MK-1, 13th place

World Championships

Slalom: 16th place (1989), 14th place (1991) 23rd place (1995) 19th place (1997)





Four-time freestyle world champion: 1993, 2001, 2005, 2007


World Cups

Slalom:


Tacen 1989: 5th place


Augsburg 1989: 6th place


Bourg 1989: 7th place

U.S. Team Trials

Slalom:


1989, 1990, 1991, 1995: 2nd place

U.S. National Championships

1990 MK-1 National Champion
More On Eric Jackson
Eric is a member of the International Whitewater Hall of Fame, a 2x Everest Award Winner, and a World Paddle Awards Lifetime Achievement Award winner.
His two children, Dane and Emily, are freestyle world champions.