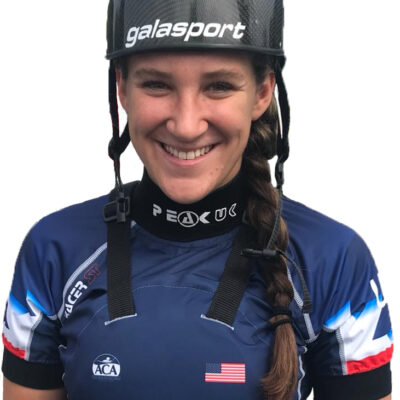 Ria Sribar
| | |
| --- | --- |
| Hometown | Auburn, California |
| Events | Kayak Slalom (CSL WK1) , Kayak Cross (WX1) |
| Years On Team | 6 (since 2017) |
| Club | Potomac Whitewater Racing Club (PWRC) |
| Born | 10/13/2002 |
| Schools/Work | US Performance Academy |
| Hobbies | Downhill skiing , swimming , hiking/backpacking , cooking and baking |
"Do the best you can until you know better. Then when you know better, do better." – Maya Angelou
12 Things You Didn't Know About Ria
Ria started paddling with her parents at age 2, in a two-seat sea kayak. She transitioned to a playboat at age 5 and fell in love with slalom kayaking at age 9.
Ria learned both to hand roll and to roll with a paddle at age 6.
Ria paddled the entire Grand Canyon (231 miles in 21 days) in a slalom boat at the age of 11.
Ria decided to become a competitive slalom racer at age 11 after attending the World Championships in the US in 2014. From then on, she has split her training time between the US and Europe.
Ria first made the Senior US National Team in 2018 when she was 15 years old.
By age 16, Ria had kayaked on four continents: North America, South America, Europe, and Oceania.
In addition to kayaking, Ria's favorite outdoors activities are alpine skiing, swimming, and hiking/backpacking.
Before competing in slalom kayaking, Ria competed in synchronized swimming and alpine skiing.
Ria learned 4 languages by age 3, starting with Serbian, then English, Mandarin Chinese, and Slovenian. She is fluent in English and Slovenian.
Ria enjoys cooking and baking for family and friends. No special occasion needed!
Unique expertise: Ben and Jerry's ice cream connoisseur.
When not seeking thrills in kayaking or skiing, Ria loves to drive fast on German autobahns, with a kayak on the roof, of course.
World Championships

2021 U23 World Championships, Tacen, Slovenia


3rd WK1





2019 Junior World Championships, Krakow, Poland


5th WK1-Team


8th WK1





2018 Junior World Championships, Ivrea, Italy


5th WK1-Team


29th WK1





2018 World Championships, Rio De Janeiro, Brazil


38th WK1





2017 Junior World Championships, Bratislava, Slovakia


6th WK1-Team


23rd WK1


World Cups

2020:


15th WK1, Tacen, Slovenia


3rd WCSLX, Tacen, Slovenia


15th WK1, Pau, France





2018:


18th WK1, Tacen, Slovenia


Youth Olympic Games

2018:


Youth Olympic Games, Buenos Aires, Argentina


5th WK1 (obstacle course)





Youth Olympic Games World Qualifications, Barcelona, Spain


2nd WK1 (obstacle course)

U.S. Team Trials

2021:


2nd WK1, USA Olympic Team Trials, Charlotte, NC





1st WCSLX, USA National Team Trials, Charlotte, NC

Other Results

2017:


Overall Champion U16 WK1, European Canoe Association (ECA) Cup





2016:


Overall Champion U14 WK1, European Canoe Association (ECA) Cup
More on Ria
First Strokes:
Ria began paddling with her parents at age 2, in a two-seat sea kayak, on lakes near her Auburn, California home, and during multi-day paddle/camping trips in the Sierras (Lake Eleanor being a favorite spot!). At age five, Ria got her first kayak, a tiny playboat. She spent the summer learning how to roll a kayak in the pool, and by age 6, she was a pro at hand- and paddle-rolling. Over the next couple of years, Ria continued to build her river running skills by paddling with her dad Rok (a renowned Class V+ whitewater paddler) on the South Fork of the American River near Coloma, California. Ria was introduced to slalom kayaking and racing by a fellow kayaker who invited the family to the yearly, family-friendly Mokelumne river slalom race near Jackson, California. By age 9, Ria was hooked on trying to make all the slalom gates.
First Adventures:
With a great kayak-roll, Ria was ready for bigger adventures: a 3-day trip on the Rogue River in Oregon, and a 21-day trip on the Colorado River, in the Grand Canyon, Arizona. Ria was only seven years old when she ran the Rogue River. She enjoyed this class III river, the camping, the camaraderie of fellow kayakers and rafters. Ria even saw a baby bear on the shoreline and thought it would be fun to say hello before her father interrupted her approach. At age 11, Ria kayaked in a slalom boat 231 miles of the Grand Canyon of the Colorado River during a 21-day trip. She ran huge rapids, surfed waves, and became a confident paddler.
Race Beginnings:
Ria watched her first-ever Canoe Slalom World Championship in Deep Creek, Maryland, when she was 11. She befriended a group of Slovenian athletes, two of whom became world champions a day later! Then and there, Ria wanted to be just like them. Her "formal" race training began impromptu a few days later when she accepted an invitation to train with the Potomac Whitewater Racing Club in Washington, D.C., for a couple of weeks, while her parents and sister flew home to California. Over the next few months, Ria continued to seek slalom training opportunities, which led her to join the U.S. Performance Academy (USPA), an online school for high-performing athletes, allowing flexibility with school, training, and racing. Starting at age 12 and for the next couple of years, Ria spent her summers in Slovenia, where she trained with the kayak club in Solkan and raced at European Canoe Association (ECA) races.
USA National Team:
Ria tried out and made the USA Junior National Team in 2017, at age 14 – the first year she was eligible to participate in the Team trials. At age 15, Ria competed at the 2018 USA Canoe & Kayak Team trials and made the Junior and the Senior National Teams in the WK1 event. She raced for the USA Canoe & Kayak Team at several International Canoe Federation (ICF) World Cups and the 2018 World Championships in Rio de Janeiro, Brazil. Ria was the youngest competitor in Rio. Through these events, she gained invaluable experience and appreciation for the sport and various world cultures.
Off the Water:
When not paddling, Ria enjoys the outdoors in other ways. She loves swimming, alpine skiing, and hiking/backpacking. Before becoming a canoe slalom athlete, Ria was ski racing for the Sugar Bowl Ski Team in California. She still loves to ski fast! At home, Ria loves experimenting with different cuisines, trying new recipes, and creating a few of her own. To relax, she enjoys listening to music and going on drives with friends.