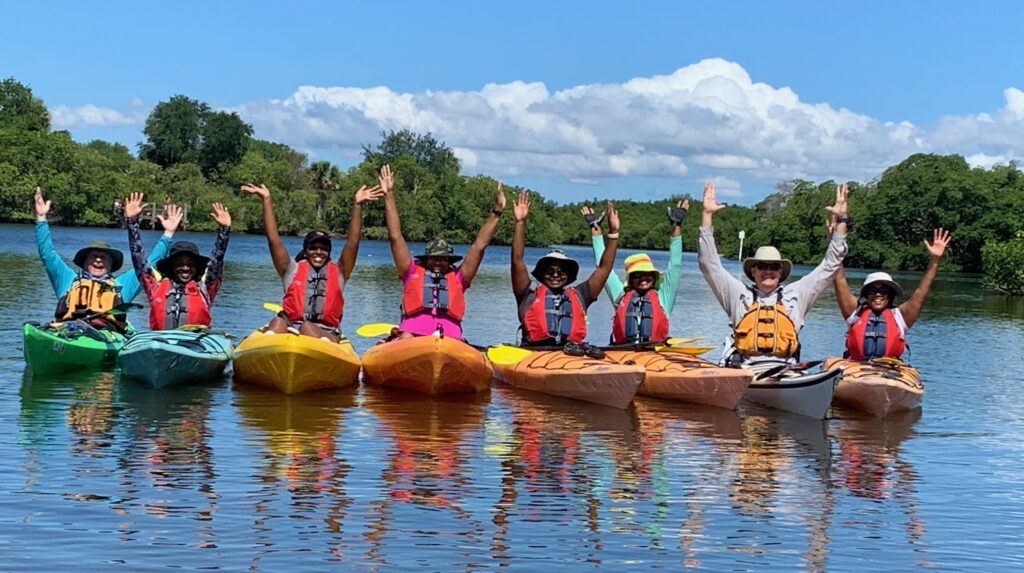 This summer Florida-based ACA Instructors Wayne Douchkoff, Jake FitzRoy, and Tim Grimes facilitated a Level 2 Kayaking Skills Course and an Essentials of Kayak Touring Trip Leader Course with participants from Outdoor Afro, Empowered Minds, and Florida A&M University (FAMU). With the support of the Florida Youth Conservation Centers Network (FYCCN)'s Suncoast Youth Conservation Center, participants and leaders alike reviewed the courses as being exceptionally fun, challenging, and educational. Several of the participants were long-time paddlers excited to be receiving their first formal training.  
 …
Outdoor Afro is a national not-for-profit organization that celebrates and inspires Black connections and leadership in nature. Hillary Van Dyke, who is the volunteer for the local network which covers St. Petersburg-Tampa Bay-Orlando, wanted her members trained as kayak trip leaders after seeing Outdoor Afro volunteer leaders from across the nation successfully completed ACA kayak instructor training.  FAMU and Empowered Minds also work in the Black community and wanted to expand their programming to include kayaking. 
Jake FitzRoy, an FYCCN partnership coordinator, is part of a team around the state that helps organizations with youth and family programing in paddlesports, shooting sports, fishing, and wildlife discovery. 
Wayne Douchkoff, founder of WayneAdventures, was the main instructor for the EKTTL and donated his time to these courses. Tim Grimes, of TJ's Paddlesports, similarly donated his time to assist with the EKTTL. 
FYCCN, a division of Florida Fish and Wildlife Conservation Commission (FWC), is excited to grow in partnership with Outdoor Afro St. Petersburg-Tampa Bay-Orlando, Impowered Minds, and FAMU, working together to help "Create the Next Generation That Cares."