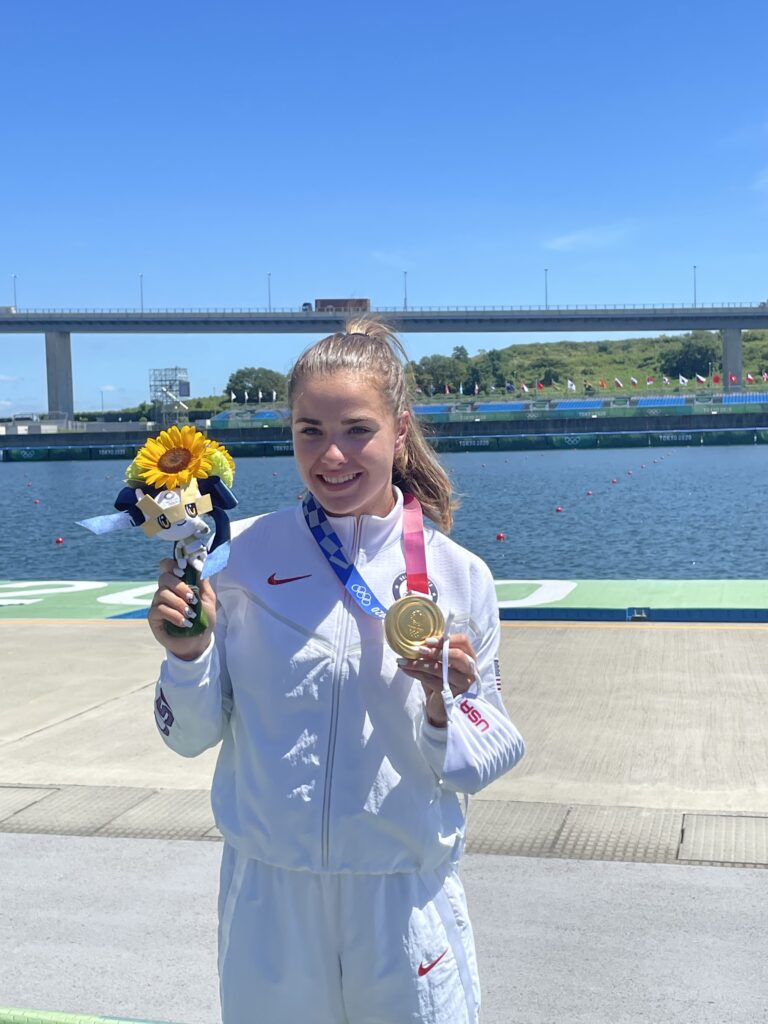 The final day of canoe sprint competition for the United States took place today at the Sea Forest Waterway in Tokyo. It was incredible, it was exciting, and it is a day that will go down in history for USA Canoe Sprint.
Nevin Harrison, who earned the Olympic Best Time in yesterday's heat of the C-1 200m, took the start line in the second of the two semifinals at 9:51 am local time. Tensions were high as it was the first epic showdown between Harrison and six-time world champion from Canada, Laurence Vincent-Lapointe. Before this semifinal, Harrison and the Canadian had never raced – Vincent-Lapointe was scratched from the 2019 World Championships after a positive drug test when the American took the world title. Harrison later also won the 2020 World Cup in Szeged.
Harrison came in first and had the fastest time of the two semifinals (46.697 seconds), while Lapointe came in third behind China's Lin Wenjun. Whether the Canadian was reserving her energy for the final or not (since the top four athletes in the semifinal advance to the A final), Harrison dominated the semifinal field and looked stronger than ever.
Two hours later at 11:57 am local time, Harrison came out hungry for the podium in the A Final and won the gold medal by a margin of .854 seconds over Vincent-Lapointe, who earned the silver. Liudmyla Luzan of Ukraine won the bronze.
"This is so incredible, it's crazy. Thank you to my family and friends. You are my rocks and my support. Kenny and Anna, my two best friends, have been with me every step of the way. I wouldn't be here without any of them."
The American teenager is a trailblazer for the sport in the U.S. and is making history in the process at only 19 years old. The last time USA Canoe & Kayak won a medal in canoe sprint was a bronze in 1992 by Greg Barton in the K-1 1000m. The United States has only won three canoeing medals at the Olympics before today: a silver and gold by Frank Havens in 1948 and 1952 (C-1 10,000m), and a silver by Steven Lysak and Stephen Macknowski in 1948 (C-2 1000m). Harrison is the first to win a gold medal in women's canoe as the C-1 200m and C-2 500m are making their debut in Tokyo.
"I hope this can be what makes the sport grow in the U.S. because it's so much fun. I hope this will put America on the map."
Congratulations to Nevin Harrison on this amazing accomplishment. We are so proud of you!
Follow @officialusacanoekayak on Instagram and USA Canoe and Kayak Team on Facebook for live updates. Give her a shoutout and tag @officialusacanoekayak in your post!
For media inquiries, email press_office@americancanoe.org.