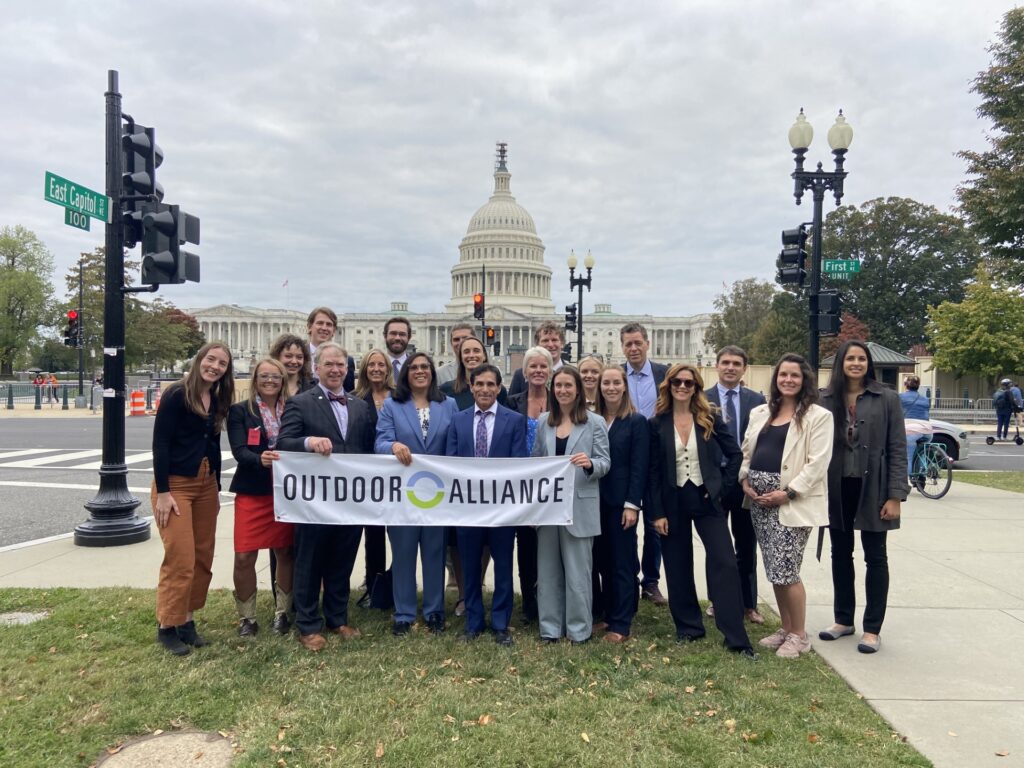 This fall, the American Canoe Association (ACA) joined forces with Outdoor Alliance in Washington D.C. on Capitol Hill. Policy experts from Outdoor Alliance and their partners came together to advocate for public policy that would benefit everyone in the United States who participates in outdoor recreation.  
About the Alliance 
Outdoor Alliance is a nonprofit coalition of national advocacy organizations that includes the American Canoe Association, American Whitewater, Access Fund, the International Mountain Bicycling Association (IMBA), Winter Wildlands Alliance, the Mountaineers, the American Alpine Club, the Mazamas, the Colorado Mountain Club, and the Surfrider Foundation.  
At the ACA we are united by our love of paddling. As individuals, most of us participate in other forms of human-powered outdoor recreation in addition to paddling. Outdoor Alliance represents not only the interests of paddlers, but climbers, mountain bikers, backcountry skiers and snowboarders, mountaineers, hikers, and surfers.  
Joining a membership organization that is part of the Outdoor Alliance coalition is especially impactful because your membership supports more than the projects and programs of the individual organization. Policy experts from each of the ten organizations that make up Outdoor Alliance meet each week to discuss the dynamic and complex legislative issues that impact outdoor recreation.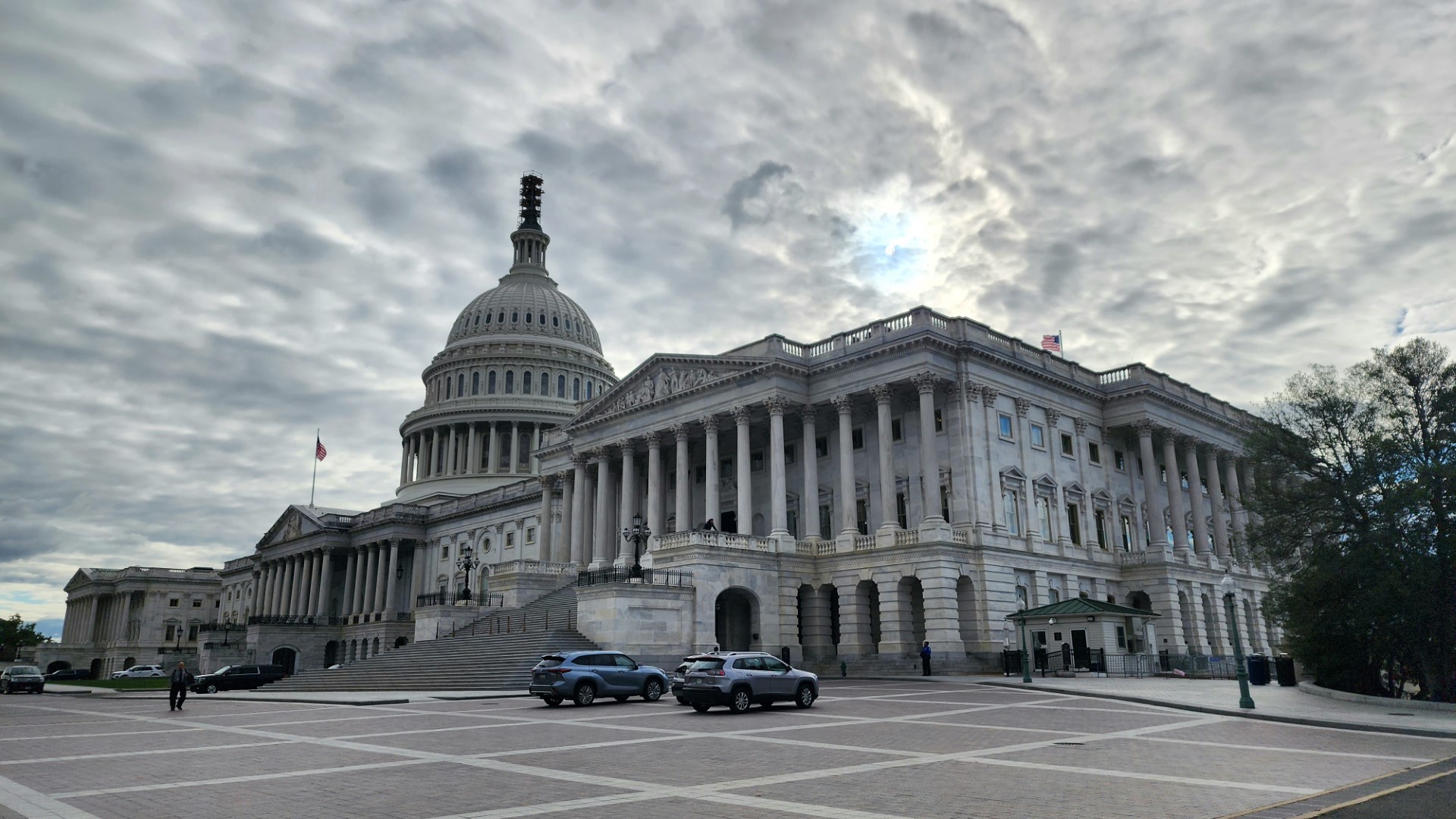 On the Hill 
To kick off the week of meetings in Washington D.C., the policy experts spent a morning learning from Angelo Baca, filmmaker, and PhD candidate in sociocultural anthropology at New York University. Angelo is from the Navajo and Hopi nations, which are tribal nations located within their aboriginal territory in the southwest region of the United States. 
Angelo provided valuable insights into how Outdoor Alliance and each of the individual organizations making up the coalition are uniquely positioned to work with Native communities to protect public lands and waters. He also discussed the complexities of navigating the policy landscape encompassing jurisdiction of federal, local, and tribal governments. Angelo initiated an important conversation within our group on how to ensure that our policy efforts do not inadvertently assimilate native voices, emphasizing the need to keep an open mind and seek creative ways to support harmony between the land and the people that call that land home. 
On Capitol Hill, the representatives from Outdoor Alliance, the ACA, American Whitewater, Access Fund, the American Alpine Club, IMBA, The Mountaineers, Surfrider, Sage Trail Alliance, The California Mountain Biking Coalition (CAMTB), REI, and the Wasatch Backcountry Alliance met with lawmakers to discuss a range of topics including: 
America's Outdoor Recreation Act (AORA): This bipartisan package of recreation legislation includes provisions that Outdoor Alliance and member groups have supported for over a decade. AORA covers long-distance bike trails, rock climbing in Wilderness areas, streamlining recreational permitting, and the Outdoor Recreation Legacy Partnership (ORLP) program. We asked lawmakers to support the development of this recreation package and work to pass it this year. Write a letter to your lawmakers and ask them to pass America's Outdoor Recreation Act using Outdoor Alliance's FastAction Form.
Protective Designations: Protected public lands and waters offer excellent outdoor recreation opportunities and are crucial for addressing climate change and biodiversity loss. As a coalition, we asked for progress toward a lands package and additional protections for various areas.

 

Farm Bill: The Farm Bill, updated every five years, is a must-pass legislation that offers opportunities to advance our community's priorities. We asked for support for conservation programs and recreation-related rural economic development opportunities. Read more about the Farm Bill here and read the full letter about Outdoor Alliance's Farm Bill priorities here.
Administrative BLM's (Bureau of Land Management) Public Lands Rule: The BLM manages a vast amount of public lands, and this rule would help ensure sustainable management. The BLM's Public Lands Rule would have many conservation and recreation benefits, and new recreation guidance at both the BLM and the Forest Service. 
The Right Time 
If I had to choose one word to describe Washington D.C., it would be "immense." As a first timer in D.C., I was taken aback by the sheer magnitude of both the buildings themselves, and the issues being discussed within them. Despite being comfortably dwarfed by mountains, trees, and rivers, the immensity of D.C. made me feel unexpectedly small.  
My hurried walks between meetings contrasted with the slow march of the protesters calling for a cease-fire in Israel. Our scheduled group photo on the steps of the Capitol had to be relocated due to the Speaker of the House vote that closed the building to the public.  
Though nothing in my life has been more influential than outdoor recreation, I was surprised that the lawmakers in D.C. were willing to make time to discuss issues like how excessive wildfire closures impact recreation dependent communities (one of the important policy issues being championed by the policy experts at American Whitewater). The advocacy veterans, however, seemed unfazed. Jennifer Savage, the Senior Plastic Pollution Initiative Manager at Surfrider shared with me, "There are always important things going on. If we stop the work just because it is not the number one priority, it will never get done." After all, much of our work is about speaking up on behalf of the land and water, whose voices often go unheard amid the car horns and police sirens that punctuate everyday life on the hill.  
In the office of Congresswoman Susan DelBene – 1st District of Washington State 
L-R: Tom O'Keef (American Whitewater), Betsy Robblee (The Mountaineers), Cassia Tackett (American Whitewater), Shanta Katipamula (Senior Policy Advisor), Dani Poirier (Wasatch Backcountry Alliance), Kaycee Maas (American Canoe Association)
Making the Greatest Impact 
On my way back home to Colorado, I contemplated my biggest takeaway from this opportunity to join Outdoor Alliance in their efforts to improve and protect the ways that we enjoy our public lands and waters. Before the plane could reach its cruising altitude, I was sure that my most significant takeaway from this trip was the incredible value of joining an advocacy organization. Public policy is as complex as it is impactful, and it is incredibly complex. 
I sincerely believe that, as a paddler, the best way to support the places that you love to paddle and promote your interests as a paddler is to join a membership organization. Your membership dues do not only support the work of policy experts; they keep you informed and provide opportunities to get more involved. Joining a membership organization within the Outdoor Alliance coalition offers the added benefit of connecting you with policy experts representing all the places and activities that have undoubtedly given you access to community, wellbeing, and joy. 
With the holidays fast approaching, I encourage everyone who plays outside to join, donate, or gift a membership to the American Canoe Association, or any of the Outdoor Alliance member groups. From someone who has worked in various aspects of the outdoor industry, I can attest that this is money well spent, sure to please even your hard-to-shop-for mother-in-law!
 ###
About the Author 
Kaycee Maas is the Communications Coordinator at the American Canoe Association. She currently lives in Colorado, where she first found her community and connection to place through shared outdoor experiences. With an educational background in sociology and public health, Kaycee is committed to increasing access and education in wilderness settings. Her experience working as a raft guide, in a bike shop, and as a ski instructor has given her an intimate connection to the outdoor industry and a unique perspective on its challenges.