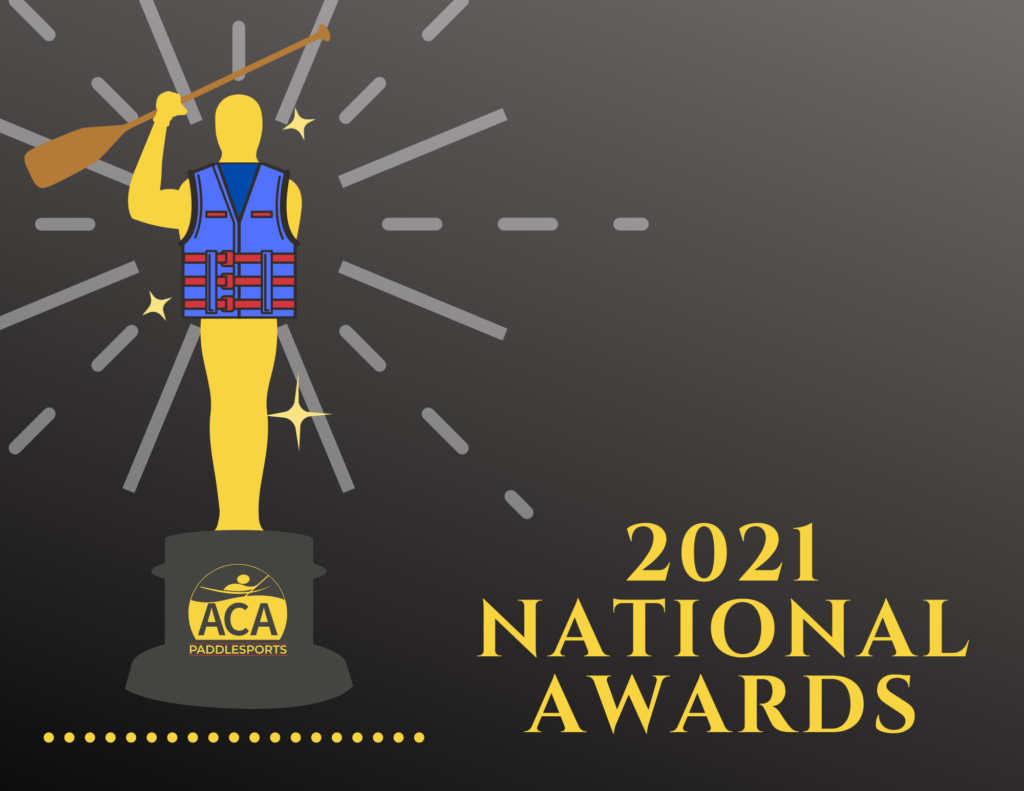 We are proud to honor the 2021 ACA National Award Recipients! Each year, the ACA presents a series of prestigious national awards to individuals and organizations who have illustrated exemplary leadership, service, and dedication to various aspects of paddlesports.
This year's awards:
Excellence in Instruction
Green Paddle for Waterway Conservation
J. Henry Rushton for Organizational Excellence
Joe Pina Volunteer of the Year
Sanctioned Event of the Year
Havens Leadership Award
President's Award
Legends of Paddling
You can watch the 2021 ACA National Awards ceremony as part of the Annual Membership meeting, here.
Excellence in Instruction – Jeff Atkins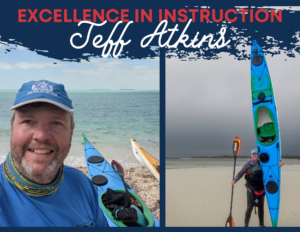 It is said that Jeff's love for being in a boat is contagious. Jeff uses humor, exploration, and observation to break down barriers to learning. His goal is to help his students keep their inner critic at bay, so students feel safe to try new things and push themselves through challenges. Jeff is also uncannily good at assessing where students are at with their skills and providing just the right amount of challenge, with the appropriate amount of support and encouragement. Jeff models what it means to be a skilled instructor through his own teachings about communication, acquiring a toolbox of skills, and being adaptable.
Jeff Atkins not only holds many ACA certifications but also is the current Chair of the Introduction to Paddling Committee. His ACA certifications include Coastal Kayak IT, Canoe Touring IT, and SUP IT. Although Jeff has an impressive depth and breadth of knowledge of paddlesports, he continues to strive and learn. His philosophy celebrates the joy of kayaking and honors the experience and progress of his students. We are all proud of Jeff and his outstanding contribution to paddlesports education and instruction!
To read more about previous recipients of the Excellence in Instruction Award, please click here.
Green Paddle for Waterway Conservation – Jamison Holtz and the Baltimore City Recreation & Parks "Canoe and Scoop" Program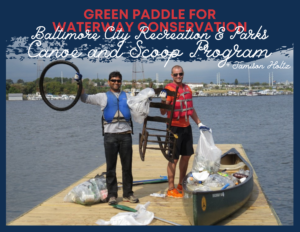 The Canoe and Scoop program, led by Jamison Holt and the Baltimore City Recreation and Parks, has not only been productive in the cleaning of refuse in the Middle Branch of the Patapsco River in Baltimore City, but it has also provided volunteers of all ages with valuable opportunities to practice stewardship of the environment. Baltimore City Recreation and Parks recruited local businesses and organizations to help clean up the shoreline at Middle Branch Park in Baltimore, MD. In 2021, the program had over 21 groups, 330 participants, 313 trash bags collected, and over 5,000 pounds of garbage removed from the waterway. With the volume of trash collected on each of the outings of the Canoe and Scoop program, significant improvement is being made in the water health of Baltimore City Harbor. Congratulations to Jamison Holtz and the Baltimore City Recreation and Parks for your outstanding contribution to paddlesports by protecting your local waterway!
To read more about previous recipients of the Green Paddle for Waterway Conservation Award, please click here.
J. Henry Rushton for Organizational Excellence – Northshore Canoe & Kayak Club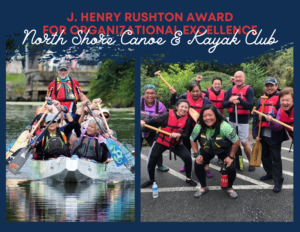 Northshore Canoe & Kayak Club offers basic classes as well as advanced skills and mentorship for dragon all types of paddlesports activities. As an ACA PAC, they are a unique provider of community-oriented hand-powered water sports in a natural north Lake Washington environment. Their mission is to provide opportunities for lifetime competitive and recreational participation in hand-powered water sports including canoeing, kayaking, dragon boating, standup paddle boarding, and outrigger canoeing.
Their Board of Directors consists of local volunteer community members who all share a passion for developing a vibrant, lasting program.
Please join us in congratulating Northshore Canoe & Kayak Club for their outstanding programming, community building, and commitment to paddlesports opportunity and growth!
To read more about previous recipients of the J. Henry Rushton Award, please click here.
Joe Pina Volunteer of the Year – Jeff Mazanec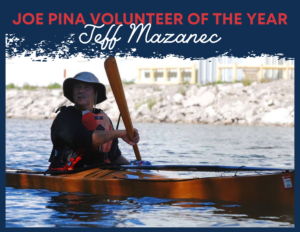 Jeff Mazanec is a tireless volunteer, event organizer, ACA instructor, and community leader who has served as president of the Northeast Wisconsin Paddlers (NEWP) club for the past eight years. As a leader, he spearheaded the creation of public paddle events that have exposed thousands of people of all ages to a greater appreciation and enjoyment of paddlesports and conservation of local lakes and rivers. As an ACA instructor, he has volunteered to organize and teach kayaking classes held annually in conjunction with the local YMCA. Jeff has also instructed at the annual Door County Sea Kayak Symposium for the past decade and instructed NEWP Kayak Essentials and Rolls and Rescue classes.
Jeff has dedicated himself to serving his local Wisconsin community and the national paddlesports community. His volunteer time and initiatives that he has envisioned and carried out are evidence of his extraordinary service. Some of his initiatives include the Fox-Wolf Watershed Alliance annual paddle series, Park-to-Park Paddle event, Kayak Essentials class for the City of Appleton Parks and Recreation Department, and annual Paddler Gear Swap and Workshop events. He volunteers his time on the NEWP Board of Directors and currently serves as president of the NEWP Board of Directors, developed and administered the Wisconsin Paddlers club website, an actively instructing. You can also find him moderating, as well as providing AV support, for the annual Canoecopia Paddlesports Expo event in Madison, WI. Congratulations to Jeff for his extraordinary service at the local, regional and national level!
To read more about previous recipients of the Volunteer of the Year Award, please click here.
Sanctioned Event of the Year – Community River Floats Hosted by Diversify Whitewater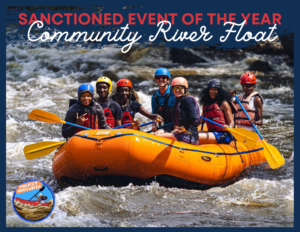 Diversify Whitewater is a national 501(c)(3) nonprofit organization that works to promote Diversity, Equity, and Inclusion in paddle sports by removing the barriers that exist for Black, Indigenous, People of Color (BIPOC), and Allies in kayaking, canoeing, rafting, and stand up paddling. They accomplish this goal through:
Events — Providing no-cost paddling instruction and river trips.
Equipment — Providing free use of boats & equipment to all participants.
Education — Communicating how to effectively address diversity, equity, and inclusion on and off the water.
Conservation — Preserving our waterways and natural spaces through responsible, respectful, and sustainable practices.
Representation — Increasing the number of BIPOC faces and voices in the paddling community, industry, and media.
Mentorship — Building a cohort of BIPOC boaters who can pass on their skills to the next generation.
The organization was co-founded by two women and kayakers of color in June 2020: Lily Durkee and Antoinette Lee Toscano. Antoinette learned to kayak after 11 years of service in the U.S. Army through Team River Runner, a nonprofit organization that teaches paddlesports to veterans to facilitate mental and physical recovery. Lily started to kayak when she was 9 years old, and she competed nationally in kayak slalom as a teenager. Growing up with whitewater taught her at a young age how to face challenges head on and to effectively problem solve when faced with adversity. Diversify Whitewater strives to share the beauty and many benefits of paddling on to BIPOC and Ally communities across the country. On behalf of the ACA Board and staff, we congratulate Diversify Whitewater for their trailblazing work in inclusive paddling for everyone!
To read more about previous recipients of the Sanctioned Event of the Year Award, please click here.
Havens Leadership Award – Tamara Adelberg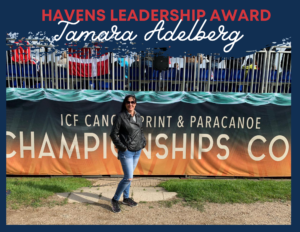 The Havens Leadership Award rewards individuals whose practices and behaviors best serve the interests and success of USA paddlesports athletes.
The award is named after the Havens family, specifically Ginny and Kay whose behind-the-scenes support of Bill and Frank's canoeing endeavors was key to their Olympic achievements.
Generous with her time and talents, Tamera brings a passion for action and follow-through to every project. Without Tamara's dedication to service, ACA could not stage the 2021 Olympic Sprint Trials in Sarasota, Florida, or Slalom Trials in Charlotte, North Carolina, and Prague, Czech Republic. As the ACA's volunteer COVID Officer, Tamara was instrumental in ensuring the safety of our athletes, staff, and volunteers at all National and International events. She helped with National Teams' travels and several training camps organization. Tamara also led the Sprint Jr/U23 Team to the World Championships in Portugal and the Paracanoe Team to the World Championships in Denmark. Besides project management skills, Tamara impressed both the Sprint and Slalom communities with her impressive national anthem performances during medal ceremonies. Thank you, Tamara!
To read more about previous recipients of the Havens Leadership Award, please click here.
President's Award – Olympic & Paralympic Athletes
From ACA Board President, Robin Pope:
The president's award is given to an individual or group, living or deceased, who has made a meaningful contribution to paddling or the ACA. With that broad criteria, it can be challenging to determine to whom to present the award; there are many active volunteers and ACA members who deserve recognition.
In this first Olympic year when ACA has become the Olympic and Paralympic National Governing Body, it seems an obvious choice to recognize the hard work and dedication of our Olympic and Paralympic athletes. They have trained hard for years or decades, suffered through a year of uncertainty concerned about the impact of COVID, and have represented the ACA and US well in this year's Olympic and Paralympic Games. It's my privilege to award an ACA President's Award to the US Olympic and Paralympic Paddling team.
That team includes:
Canoe Sprint Gold Medal winner – Nevin Harrison
Paracanoe Silver Medal winner – Steven "Blake" Haxton
Canoe Slalom (men's) – Zach "Bug" Lokken
Kayak Slalom (men's)  – Michal Smolen
Canoe & Kayak Slalom (women's) – Evy Leibfarth
Kailin Friedenson
Ria Sribar
Paracanoe  – Kaitlyn Verfuerth
Although we're recognizing these athletes, we must also recognize the people that supported them – their success couldn't have happened with the support of their family, coaches, team mates, and the support of the ACA and US Olympic and Paralympic Committee.  I'd like to particularly point out the support provided by ACA's high-performance director, Rok Sribar, who donates his time to serve our athletes.
To read about previous recipients of the President's Award, please click here.
President's Award – Dr. Steven Henkind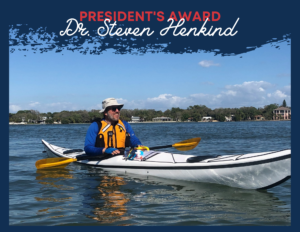 From ACA Board President, Robin Pope: 2020 was year defined by COVID. Many wondered how to continue paddling, and a number of ACA members worked as a team to create guidelines. The fact that those guidelines still stand as relevant more than a year and a half after their creation speaks to their quality. Although a team created them, every team needs a leader. Dr. Steve Henkind, an ACA instructor and physician, was our team leader. He drafted guidelines, field tested them, sought and incorporated feedback, and created an extraordinarily strong set of guidelines for paddling during Covid.  It is my privilege to award Dr. Steve Henkind an ACA President's Award for creating a path for us to paddle during COVID.
To read more about previous recipients of the President's Award, please click here.
Legends of Paddling Award – Sam Fowlkes
Presented to one individual each year for their legendary contributions to paddlesport. Recipients of this prestigious award will be inducted into the ACA Paddlesport Hall of Fame.
From ACA Board President, Robin Pope:
One of ACA's most prestigious awards is the Legends of Paddling Award. Reviewing former recipients shows that they truly are legends – people who were instrumental in developing our sport, and supporting and guiding it for years. This year's recipient will fit right in with the other ground breaking recipients of this award. This year's recipient has been a competitor and, for more than 40 years, an ACA instructor.  As an Instructor Trainer, he has certified hundreds, if not thousands, of instructors. He served for decades in a variety of ACA leadership roles, including many years on ACA's Board, as chair of the Safety Education and instruction Council, as a member of instructional discipline committee, and, most recently, as chair of ACA's Safety and Rescue Committee. He has been instrumental not only in developing swiftwater rescue curriculum and techniques, but also in leading and creating a strong panel of experts to help grow swiftwater rescue as a distinct paddling discipline.
This year's recipient is a good friend, a mentor to me and many others, and someone I've been privileged to learn from and to teach with. It is my very great honor and privilege to recognize Sam Fowlkes as a Legend of Paddling.
To learn more about previous recipients of the Legends of Paddling Award, please click here.